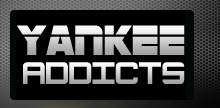 November 29, 2012 · Phil Watson · Jump to comments
Article Source: Bleacher Report - New York Yankees
Andy Pettitte and Mariano Rivera will both be in pinstripes in 2013. But after Pettitte agreed to a one-year deal on Wednesday with reports breaking on Thursday that Rivera's deal could be done by Friday, many have been left with one lingering question:
Why is Andy Pettitte getting a bigger deal than Mariano Rivera?
The short answer is this: He isn't—at least not if Rivera stays healthy next season.
Pettitte's deal , according to the New York Daily News, is for one year at $12 million. Jayson Stark of ESPN.com reported on Thursday that Rivera's deal was expected to be between $11 million and $12 million, but Jon Paul Morosi of FOXSports.com tweeted the deal was lower:
The Daily News was also reporting the lower figure for Rivera.
Rivera made $15 million in 2012, a season that was over for him in early May after he tore the anterior cruciate ligament in his right knee.
While the base salary of Rivera's new deal would be significantly lower than what he earned in 2012, according to the Daily News, the parties are negotiating incentives that could bring the total of the contract to nearly $15 million, provided Rivera is able to stay healthy.
Pettitte's deal also contains incentives, but his are worth $2.5 million and are to be awarded as bonuses should he win certain unspecified awards.
It's also worth pointing out that, while both pitchers were injured last season, Pettitte was able to come back and pitch in September and in the postseason. Rivera was not.
Pettitte will be 41 in June, while Rivera turned 43 on Thursday. Nineteen months might not be a big deal in the overall scheme of things, but when determining salaries for 40-something baseball players, 19 months is a huge deal.
Read more New York Yankees news on BleacherReport.com