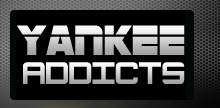 May 16, 2009 · Jonah Lathbury · Jump to comments
Article Source: Bleacher Report - New York Yankees
Most people know the courageous story of Jackie Robinson. Anyone who does not should read no farther and google the life of a real American hero.
For those who do know about Jackie's life, you probably also know about Harold "Pee Wee" Reese. Pee Wee was the Dodgers captain, 10-time All Star, and winner of seven league championships while the Dodgers were still in Brooklyn.
Despite his Hall of Fame achievements, his accolades on the field will forever pale in comparison to his contribution to our fragile nation in 1947.
Pee Wee Reese was born in one of the heavily segregated portions of the country in 1918. By 1947, progress had been made but America was still strongly divided.
In May of that year the Dodgers travelled to Cincinatti's Crosley Field. Travelling with the team for the first time was Jackie Robinson. The Cincinatti crowd famously bombarded the second baseman with jeers and racist taunts from every corner of the stadium.
In that moment when Jackie Robinson probably never felt more alone, he was embraced by the arm of Brooklyn's shortstop—Pee Wee Reese. Had it been anyone else on the field that day the impact may not have been the same.
Imagine a ruthless crowd at Yankees Stadium booing a young Yankee second baseman only to see Derek Jeter walk over and put his arm around him. Although this game was on the road, I suspect Pee Wee Reese had a similar effect on the people in the stands that day.
The funny thing is, Pee Wee Reese couldn't hold a candle to what Jackie Robinson was capable of on the field. Jackie was bigger, stronger, and faster. Their career stats are not even comparable.
Although Dodger fans were mesmerized by Pee Wee Reese, they had not seen the best of what baseball or their team had to offer.
The endorsement of Pee Wee Reese was great, but Jackie Robinson still played with more pressure than any player ever has. The first African-American major league baseball player had to be someone fans would accept. It had to be someone capable of earning their cheers on the field.
Jackie Robinson and Pee Wee Reese became one of the top defensive infields in baseball. Jackie's combination of speed and power has rarely been matched before or after. Although he faced persecution his entire career, Jackie Robinson more than validated himself on the field.
Sixty years later baseball is once again at a crossroads.
For the past decade, the integrity of baseball has been grossly compromised by steroids, cheating and athletes who "misremember" more fiction than facts.
We've watched unreachable records get shattered. We've seen athletes run faster, throw harder, and hit longer than ever before. Players who seemed so distant from the steroid scandal are being linked to it every day. As nice as this is for television it is devastating for baseball. Baseballs day as the national passtime seems so distant.
Just as it did in 1947, baseball needs another breakthrough. For now we would all be satisfied with a Pee Wee Reese—an athlete who plays hard, who we know plays by the rules. But at some point baseball owes us all another Jackie Robinson.
By no means do baseball issues compare to what Jackie Robinson did for African-Americans and everyone in the 1940s. However, if baseball will ever again be a viable platform to improve our ideals, it needs to first address its own integrity.