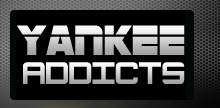 April 21, 2010 · Vito Calamito · Jump to comments
Article Source: Bleacher Report - New York Yankees
Hello all! Wow, it has been a while since I've last written, so this may be quite long, because I have a lot to say!
The truth of why I'm writing today is to get my mind off the loss of my dog this morning. She was 10, and she will be deeply missed.
I'm seeking refuge in the New York Yankees, who have gotten off to a great start to the season here in 2010, picking up where they left off back in November. There is something about this team that just jumps out at you. Something that gives me the feeling of invincibility. It is a great feeling.
What stuns me about this team is that yes, it is the highest salaried team in baseball, and yes, we have high priced players. That has almost always been the case though, so I don't want to hear any complaints from contenders. Yet what truly stuns me is the meshing of the players, and how well they seem to get along, and how everyone is a piece of the puzzle.
This reminds me of another team that won a lot of games and that seemed to mesh, where everyone did there part and was a piece of the puzzle. True Yankee fans of the last 20 years know what team I'm talking about, and that is the 1998 World Champion team that won 125 games.
What really got me thinking is the difference in the type of players the team had then compared to the ones we have now, so lets do a comparison by position, and see what team has the edge:
STARTING ROTATION:
1998: David Wells, Andy Pettitte, David Cone, El Duque, Hideki Irabu
2010: C.C. Sabathia, A.J. Burnett, Andy Pettitte, Javier Vazquez, Phil Hughes
Alright, so, here is how I see it. The 2010 starting rotation is far superior is overall talent than the '98 club, but there are some similarities. Wells was a big lefty who threw strikes, and so is C.C. Sabathia, but C.C. has the edge. What C.C. has is true ace stuff that can shut you down with a 95 MPH fastball, and then buckle you knees with a curve. Wells was just simply a good pitcher who could get you out.
Pettitte is still around, and the way he is pitching so far this season he could show his 1998 self a thing or two about pitching. Cone was also very solid, as was El Duque. I'm not going to even touch on the fat toad Hideki Irabu. He was there. That's it.
The one thing I have to say about the 1998 rotation is that, outside of Pettitte, there really weren't any future Hall of Famers. Wells did win over 200 games in his career, but outside of his perfect game (which I was at) and a handful of great winning seasons, he really doesn't stand out as a HOF. What this rotation was is a model of consistency, and group of five and a half guys (Ramiro Mendoza?) who went out and did their job, day in and day out.
Similar to the way today's rotation is shaping up to do in 2010. C.C. sets the tone for the rest of the rotation, and Andy gives the presence of knowledge and consistency with hard work.
Edge: 2010 rotation, for pure talent and ability reasons.
BULLPEN:
1998:Mariano Rivera, Jeff Nelson, Mike Stanton, Grame Lloyd, Ramiro Mendoza, ETC.
2010: Mariano Rivera, Joba Chamberlain, Damaso Marte, Chan Ho Park, David Robertson, Alfedo Aceves, Sergio Mitre.
This one is a tough call. Of course there is still Mo, and that is all I have to say. Having Mo closing out games at age 40, and still being as dominant as ever is just simply amazing. He should be on Ripley's Believe it or Not! I believe that this bullpen is a lot deeper all around then the 1998 team, but is still a little wet behind the ears. They have looked very nice thus far, but the experience and consistency of Nelson and Stanton in front of Mo was just perfect.
Edge: 1998. Simply because there was more experience down there.
BENCH:
1998: Tim Raines, Darryl Strawberry, Luis Sojo, Homer Bush, Joe Girardi/Jorge Posada, etc.
2010: Marcus Thames, Ramiro Pena, Randy Winn, Franciso Cervelli.
This is actually very similar to the bullpen comparison. On the 1998 bench, you had all proven veterans edging towards the end of their respected careers. This 2010 has something similar in Winn, but has more eager youth with Pena and Cervelli. The bench definitely had more power and clutchness with Straw and Sojo, which has yet to be seen with the current bench. The 1998 team also had a pretty nice catching tandem, don't you think?
Edge: Gonna have to say 1998 bench. With the experience of veterans and speed in Bush, it was a dangerous bench. 2010 has great potential, but just not as well rounded, which is not necessarily a bad thing.
DH:
1998: Chili Davis, Darryl Strawberry
2010: Nick Johnson
If this was 2009, I would say hands down, Matsui was the winner, but this year is a different story. The 1998 team had some great hitting from the DH spot, but both Davis and Strawberry were in the twilight of their careers. Strawberry belted 24 HR though, and had his last good year before getting diagnosed with cancer towards the end. J
ohnson has a lot of potential to match that home run mark if he stays healthy, and can take advantage of the porch in right field. What Johnson also has over the '98 guys is that he is only 32, and still has a little mileage left in him, and he can still play a great 1B when called upon.
Edge: Potentially 2010, so I'm split on this one. I'll leave this up to you, the reader.
Starters:
1998: 2B Chuck Knoblauch, SS Derek Jeter, RF Paul O'Neill, CF Bernie Williams, 1B Tino Martinez, C Jorge Posada/Joe Girardi, 3B Scott Brosius, LF Chad Curtis
2010: SS Derek Jeter, 2B Robinson Cano, 1B Mark Teixiera, 3B Alex Rodriguez, CF Curtis Granderson, LF Brett Gardner, RF Nick Swisher, C Jorge Posada
I'm not going to go in too much depth with this, just who gets the edge and why.
SS: 2010. How the hell do I figure this one you ask? The 2010 Jeter has a hand full of rings, and probably an entire room in his house dedicated to awards and trophies. Jeet is more experienced, and is a season and a half away from 3,000 hits. The 1998 Jeet was still young and still learning. Jeter is now the teacher and the Yankee Captain.
2B: 2010. Knoblauch was once a great second baseman, and still was when he played for us in 1998. But in no way, shape or form was he the athlete that Cano has turned out to be. Cano can hit for power and average, and is playing gold glove-type defense. Knobby was great once, but just wasn't the athlete that Robby Cano is.
1B: HARD CALL. Gonna have to go with 2010 too. I absolutely loved Tino, and thought that he should have won at least three gold gloves for his defense at first. Completely underrated defensively. A great hitter as well, very clutch, and played the game the right way. Tex is very, very comparable to Tino but surpasses him in certain departments. Tex has the power, more then Tino, is a switch hitter, and hits more for average then Tino did. Tex plays an AMAZING first base. So slight edge to Tex, but not by much.
3B: Definitely 2010. No offense to Brosius, but A-Rod is a superstar, and might go down in the record books as the best all around player ever. Brosius played a great 3B, but was no A-Rod when it came to the bat.
C: 2010. Jorge's wisdom and experience outweighs age.
RF: 1998. Who can argue with the Warrior?? O'Neill was just awesome, and a better hitter then Swish is, though maybe less power. A great fielder as well, with an absolute gun for an arm. They are both characters though, with O'Neill the hard-nosed baseball guy, and Swish the fun loving dude.
CF: 1998. I think that both Granderson and Bernie conduct themselves the same way on and off the ball field, truly professional. But Bernie Williams is Bernie Williams, and 1998 he won the batting title, and was in the prime of his career. Granderson will get there though.
LF: 2010. Just gotta go with Brett the Jet on this one. I think the kid has a bright future and is an absolute speed demon on the bases. Chad Curtis was a good ballplayer, but Brett just has more of an upside, and is better defensively.
Last but not least, I have to just mention Shane Spencer, and the monster September call-up he had. 10 HRs in 27 games, grand slams, etc. Just wow. I wonder if anyone will be the Spencer of 2010, Montero perhaps?? This will be classified as TBD.
Well, it seems as though this is a tough call. Lets do a count here:
Rotation: 2010, Bullpen: 1998, Bench: 1998, DH: Split, Starters: 2010(6) 1998(2)
So that leaves us with a count of 2010: 7.5 to 1998: 4.5
Will this 2010 team be a repeat of the 1998 teams performance? Time will tell us that. Do they have the ability? Yes, I believe they do. They thrive off that same auora, that same attitude of, "let's go out and do our job."
Prediction: Yanks win the AL East with a record of 105-57. Win the World Series to repeat.
Go Yanks!
Read more New York Yankees news on BleacherReport.com