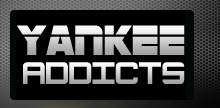 June 15, 2009 · Andrew Jordan · Jump to comments
Article Source: Bleacher Report - New York Yankees
Ever since the New York Yankees have moved across the street from their old home that hosted them for the last 85 years, the Yankees moved into the New Yankee Stadium, which contained the same dimensions as the old stadium, and had a staggering price of 1.6 Billion Dollars to build.
However, ever since the new stadium has opened, home runs have been leaving the stadium at a record rate as it has allowed 87 home runs in its first 23 games, which is a major league record. Also, it's on pace to break Coors Field's 1999 record of 303 home runs yielded in a season.
This number is extremely staggering for the Yankees because they had engineers commission a wind study during the building of the stadium, the results of which indicated there would be no noticeable difference between the two stadiums in the amount of wind in the stadium.
So far during the regular season, the stadium has allowed 114 home runs in 32 games, leading to a staggering average of 3.56 home runs hit per game. Also, there has been at least one home run hit during each game at the new stadium.
This has been very beneficial to players such as Mark Teixeira, who has already hit 20 home runs this season, Derek Jeter, who needs only two more home runs until he ties his amount from last season, and Johnny Damon, who has been crushing balls out of the yard more often than any other time during his career.
But the main question about all of these home runs is this: Why is the ball carrying here so well?
There are many different answers to this question, but no one know exactly what causes this.
There is a belief that the ball is carrying because of the vents that are located on the back of the upper deck are letting more air into the stadium, which allows the ball to move farther.
There also is a theory that the gap between the upper deck and the bleachers is allowing more air into the stadium, causing a jet stream pushing the balls into the crowd.
And according to an independent study by AccuWeather during June of this year has found that the ball is traveling farther because the wall's are shorter, which allow approximately 20% more home runs than at the old Yankee Stadium.
However, the Yankees are going to have to live with these conditions for at least the rest of the year, as Major League Baseball rules prohibit any field from making any changes to the playing field until the offseason, and both opposing and Yankee pitchers will both not want to pitch here because of the wind currents.