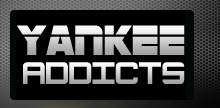 May 4, 2009 · Joey Corso · Jump to comments
Article Source: Bleacher Report - New York Yankees
In this great game of baseball we have nearly every imaginable stat at the tip of our finger so we can best determine a player's worth. However, there are certain intangibles you could never measure statistically that go a long way from separating the mediocre players from the great.
Heart. Passion. Intensity.
These are some of the traits that make an average ball player good and a good one great. No player in the history of the game better exemplified these intangibles like former major league outfielder, Paul O'Neil.
Statistically speaking he was a solid, yet unspectacular player. Take a moment to look past the numbers, and only then can you justify his true impact.
During the New York Yankee's dynasty of the late 1990s and early 2000s, they had it all. Not only did their players posses superior baseball skills to the rest of the league, but the team took on the personality of its stars.
They played with the calm of Mariano Rivera and the poise of Derek Jeter. With all that being said, nothing can compare from what the team adopted from Paul O'Neil.
Nicknamed "The Warrior" by Yankees' principal owner George Steinbrenner, O'Neil is the true face of the team during those dynasty seasons.
He was a talented ball player, yes, but nothing worth getting all excited about. However, the competitive zeal and intensity he played with was incomparable, except in the case of legendary outfielder Ty Cobb.
No, O'Neil was not some fringe player who just played with heart and passion. He was a four-time All Star and a deadly hitter, who batted smack dab in the middle of those potent Yankee lineups.
The guy even won a batting title in 1994, batting .359! However, it would be a great disservice to his legacy, if we only measured it by numbers in a box score.
So am I saying everything O'Neil did for his team was beneficial? Absolutely not.
He was known for letting his emotions get the better of him at some critical moments, just ask the numerous busted water coolers and bats. With that being said, he was a managers dream and a perfect role model for the younger players.
Yes, he had some quirks, but O'Neil always played so hard and with such a passion to win, it was impossible as a teammate to try not to replicate it.
October 7, 2001: Not only did this game mark the end of the New York Yankee's dynasty, but it was the final game played by O'Neil. Since then, nothing in the Bronx has been the same.
Yes, the post-season appearances have been consistent with the exception of last season, but in a city where rings sum up the success of a season, there has been none since he departed.
Gone are the likes of O'Neil, Bernie Williams, and Tino Martinez, and in are the glossy stars such as Alex Rodriguez, Johnny Damon, and most recently, Mark Teixeira.
Superior statistical players to those who they are preceding, yes, but guy's that have yet to show the immeasurable intangibles that are necessary in order to be champions.
Having Paul O'Neil in his prime would do wonders for this Yankees team now. Along with holdovers Jeter, Rivera, and catcher Jorge Posada, arguably the four most vital players from that now distant dynasty would still be playing.
Yes, stick O'Neil in right field and you would probably see offensive production similar to the likes of current Yankees outfielders Hideki Matsui or Xavier Nady at worst.
That small statistical jump however, would very unlikely take this current team from merely good to great. Now take into account the intangibles he played with.
Assuming his passion, intensity and will to win rubs off on these current players just like it did for those teams of the late 1990s and early 2000s, there would be no stopping this immensely talented team.
Sadly, this scenario will never unfold. O'Neil has not played a game in more than eight seasons, and it's safe to assume he will stay retired.
Players that played as hard and passionately as he did are almost unheard of, and as a fan of the game, I'm sad to say, we will likely never see someone quite like him again.
History will be and has so far been unkind to him. Hall of Fame-wise, he is considered an afterthought, a guy with solid numbers but undeserving of baseball's most exclusive honor.
Yes, even considering all the non-measurable factors he brought to the table, O'Neil still might be undeserving. Yet to all those knowledgeable baseball fans out there, you know as well as I do that the Yankees without Paulie, would probably still be stuck on World Series ring No. 22.