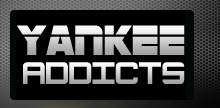 February 25, 2013 · Stephen Skinner · Jump to comments
Article Source: Bleacher Report - New York Yankees
From the moment he lay crumpled on the warning track in Kansas City, Mariano Rivera vowed he would return.
It wasn't until the certain first-ballot Hall of Famer threw batting practice on Friday that Yankees fans could finally exhale.
The greatest reliever in the history of the game is back, and as Scott Cacciola writes in his New York Times baseball blog, manager Joe Girardi seemed pleased with what he saw:
"He looked like what you'd expect him to look like, which is a good thing," Girardi said. He ticked through a list of positive signs. "Delivery, ball movement, the strikes he's throwing, throwing it where he wants to, not taking a lot of time between pitches. Looked normal to me."
The next step, of course, will be for Rivera to pitch in a live game.
Normally, Rivera would not see game action until the second half of the spring training schedule, but ESPN's Wallace Matthews reports that the Yankees reliever has different plans this year:
"Maybe another one or two more BPs and I'll be ready (to pitch in a game)," he said. "I don't know. We have a long time. I'm not trying to rush at all. It felt good to see guys up there again, but the one thing I want to do is get in a real game and see how everything responds."
What the 2013 season holds for Rivera remains to be seen, but we can take a look at what constitutes a best-case scenario for the closer.