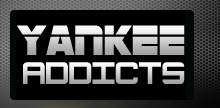 April 2, 2010 · Matthew Vereb · Jump to comments
Article Source: Bleacher Report - New York Yankees
When Hideki Matsui left via Free Agency, a major hole (28 HRs, 90 RBIs) was created in the Yankee lineup. Matsui has served as vital Alex Rodriguez protection for the past six seasons.
So what are the Yankees going to do to fill that void?
Going into this season, the Yankees have Robinson Cano slated to assume the all-important 5th spot in the lineup. Last season overall, Cano hit .320 with 25 HRs and 85 RBIs.
So what can we expect out of Cano in the 5th spot this season?
Cano has 278 career at-bats hitting in the 5th spot. He has posted a line of (.299/.321/.453) with 8 HRs. This line is a bit of a downgrade from his season line, but he only 223 of his 637 at-bats came from the 5th spot last year.
Yankee fans will remember Cano's struggles with runners in scoring position last season. Cano hit only .207 with RISP last season, a telling statistic that worries some Yankee fans.
The four Yankees expected to hit in front of Cano (Jeter, Johnson, Teixeira, Rodriguez) had an average OBP of .406 in 2009, so Cano will have a ton of opportunities to drive in runs this season. If Cano can match his .320 batting average from 2009, Cano will easily knock in 100 runs.
The key for Robinson Cano
Hitting early in the count
Cano is a career .374 hitter when he's first pitch swinging. In addition, Cano is a career .352 hitter in 1-0; 2-0 counts.
However, when Cano falls into 0-2, 1-2, and 2-2 counts, he becomes a pedestrian .231 hitter. Some hitters, like Nick Johnson and Nick Swisher, successfully work the counts in their at-bats. Cano needs to be a first-strike fastball swinging hitter. He tends to get complacent if he's in the box for 3+ pitches.
Patience
Cano is a career .283 hitter from April to June. For the rest of the season, Cano is a career .329 hitter.
Robinson Cano is a good hitter. He has great lineup protection and will have a boat-load of RBI opportunities. He just needs to stay within himself while being aggressive early in counts.
Projection: .315 BA, 27 HRs, 110 RBIs
Read more New York Yankees news on BleacherReport.com