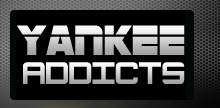 June 5, 2009 · Heartbeat Of The Bronx · Jump to comments
Article Source: Bleacher Report - New York Yankees
Yankees first baseman Mark Teixeira had heard all of the boos cascading onto the field from every corner of the new Yankee Stadium.
The team was struggling mightily, and so was the man signed to replace Bobby Abreu and Jason Giambi's production and "fear factor" in the middle of the lineup.
Once the April nightmare finally concluded, Teixeira was left staring at a .200 AVG, three home runs, and just 10 RBI on the stat sheet.
Former Yankees hero Tino Martinez must have sympathized for the new addition, as he suffered the wrath of identical fan frustration in 1996.
Though he hit .244 with 13 RBI in April 1996, he was also forced to swap places with Yankee captain and hero Don Mattingly.
Needless to say, fans were not quite so eager to accept him into their hearts.
An instant connection was formed between the two slick-fielding first basemen, and Martinez's experienced advice was just what the doctor ordered for the slumping "Tex."
"[He told me] just to be yourself, have fun," Teixeira said. "Maybe just seeing him and seeing his smiling face put a little pep in my step, I don't know. It seemed like from that point on, I started seeing the ball real well and putting some good swings on it."
Martinez began to relax Teixeira, allowing the addition of one more key ingredient to set off a chain reaction that left nothing but long balls and Yankee victories in its wake.
Enter the man that everyone loves to hate and hates to admit that they love—Yankees third baseman and chemically-assisted superstar Alex Rodriguez.
If Martinez was the baking soda in Teixeira's eruption of success, then A-Rod was certainly the vinegar.
Since May 9, the day after A-Rod's return, Teixeira has accumulated 11 HR, 32 RBI, 22 R, and a .379 AVG in just 24 games played.
To truly emphasize how smoldering "Tex" has become, this statistical pace would equate to 74 HR, 216 RBI, and 149 R when stretched over a full season.
A-Rod's mere presence in the lineup has supplied Tex with better stress reduction than a week of tai chi or yoga techniques, and a chorus of boos has quickly transformed into curtain calls and jersey sales.
New York is 19-7 since A-Rod's name was once again penciled into the lineup, skyrocketing the team from a distant third place to a first-place tie.
While A-Rod's name will always be the topic of headlines and the answer to trivia questions, it has been Tex who has ignited a fire under a previously inept offensive attack.
A virtual automatic out has now thrown his hat into the American League MVP discussion, and the Yankees have rallied around his resurrection.
Additionally, Tex has played nothing short of Gold Glove defense at first, making every check he cashes throughout the season suddenly seem like a discount.
The Yankees knew it was important to pluck Tex from the Red Sox's grasp this offseason, but no one could have predicted exactly how important.
Early struggles with an injury epidemic left New York in desperate need of a power threat, and David Ortiz's failures have created a gaping hole in a once horrifying Boston lineup.
We all knew that Tex was far too good to continue to struggle, but it is nice to see his problems fail to linger into the summer months.
Yankees Universe would now like to say something in the direction of GM Brian Cashman that they have not gotten to say very often in recent years.
Thank you.
Also seen at: Heartbeat of the Bronx