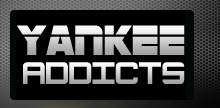 April 25, 2009 · Rain Man · Jump to comments
Article Source: Bleacher Report - New York Yankees
The New York Yankees were defeated by the Boston Red Sox by the score of 16-11. A.J. Burnett looked terrible, giving up eight hits and earned runs, three walks, and three K's in five innings. The bullpen was no better, giving up eight earned runs in three innings.
The Boston Red Sox were hammering the Yankees all game, and the sixth-eighth hitters in the lineup (Jason Bay, Mike Lowell and Jason Varitek respectively) drove in 13 runs, including the grand slam by Varitek.
The New York Yankees' offense scored 11 runs, but left 27 on base. That's way too many LOB… gotta drive them in. If they had driven five more of those 27 that were LOB, and if the decrepit bullpen actually stop giving up runs on a silver platter, this game would have been more respectable, or even a Yankees win, but oh no. No, no, no. The Yankees don't want to make it easy.The Yankees have given up 118 runs, the second most in the majors (Baltimore Orioles-123).
I realize it's a marathon, and not a sprint, but if the Yankees don't play better, especially against playoff teams, it's going to be the longest marathon the Yankees have ever ran.
In game three of this series, the Yankees send out Andy Pettitte, who has been brilliant this yea, while the Red Sox counter with Justin Masterson.
Go Yankees!