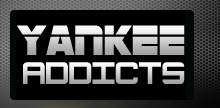 June 1, 2009 · Chris Kreitzer · Jump to comments
Article Source: Bleacher Report - New York Yankees
The Indians, competing with a depleted roster, dropped three of four to the Yankees this past series. They walked 11 batters today, but only lost 5-2. With Grady Sizemore on the DL, the lineup looks less than potent.
The roster has turned over so much that the celebration from Sunday's game (pictured right) almost looks like the guys are meeting each other for the first time instead of an exciting 9th inning win (Jhonny, meet Luis, Kerry meet Tomo.)
The key to Monday's game came in the bottom of the fifth with two on and no outs.
Kelly Shoppach (who has been awful lately) popped up a sac bunt and Ryan Garko was doubled at second. After Joba Chamberlain's obnoxious mannerisms over his good play, Jamey Carroll was thrown out attempting to steal, sealing the deal for any shot at a rally.
That was the ball game right there, as Greg Aquino walked the bases loaded in the top of the seventh, leading to a four-run inning. Aquino pitched out of a bases loaded jam (Sowers walked the bases loaded in the sixth), but was unable to pull the Houdini act again.
Jeremy Sowers pitched great for five innings, but became Jeremy Showers again in the sixth. This guy just can't figure things out on a consistent basis.
I attended Sunday's game which was well-played by both teams and featured a walk-off single by Jhonny Peralta. The annoying part of my experience was having to sit in the right field mezzanine surrounded by Yankees fans wearing jersey's with their favorite players' names featured on the back.
Do they know that their Bronx Bombers only sport numerals sans any lettering featured above? Apparently not. My wife and I figured that there was at least twice as many pinstripes as there were Tribe supporters out where we were sitting, which is pathetic.
She actually turned to the gentleman sitting behind us who was dressed from head to toe in Yankee gear and snapped at him when he wondered why the Indians would bring in their closer in a tie ballgame.
She said "he hasn't pitched in three games and they already went through three relievers last inning," which shut up the front runner and his snot-nosed son right there.
Now you know why I married her.
It made the victory that much more fun right there, even though it felt like we were cheering for our team in an opposing park.
Friday and Saturday's games were losses, one a great pitching performance (Andy Pettite) another a poor one (Fausto Carmona). Cliff Lee battled Friday but couldn't get any run support. Carmona was crappy, allowing seven runs (four earned) in four innings.
I didn't watch any of Saturday's game as I was "witnessing" another Cleveland heartbreak. Two up, two down for the series over the weekend.

Two Up
Victor Martinez fouled a ball violently of his knee Saturday, was back in the lineup Monday, and stroked a home run (that forced my buddy Kyle, sitting one row behind, to duck for cover, which is just inexcusable). The guy is a gamer and the team's leader.
I know the club shouldn't rush into any long-term contracts when they are sattled with Pronk's (Travis Hafner) albatross of a deal, but Martinez needs to be in an Indians uniform for the next five years.
Carl Pavano has pitched fantastic in May and has helped settle a spot in a rotation that has been decimated by injuries and ineffectiveness. This guy has shown guts and I have to give him credit, he sure proved me wrong.

Two Down
All Kelly Shoppach has done over the past four games is go 1-14 with 8 Ks. He has 39 Ks in 109 plate appearances (36 percent). That is just awful. Mark Shapiro should have traded him in the offseason when his value was at its highest. Don't be surprised to see Chris Gimenez a bit over the next week.
Carmona is completely lost and needs major revamping of his pitching delivery. The Indians should find someone to help him figure things out because our ace of the future has become Albie Lopez.
Some good news on the injury front came out today, as Jake Westbrook is scheduled to make a three-inning appearance for Akron Friday. If he has no setbacks, look for Westbrook to return to Cleveland sometime at the end of the month.
It will be huge addition to the mash unit of a club, as Aaron Laffey is scheduled to return at the end of the month as well. Scott Lewis is making progress and all three could be in the pitching mix by July 1.
With Sizemore and Rafael Betancourt on the DL, the Columbus shuttle continues. You tend to forget who is actually on the roster with guys like Tomo Ohka (my dad called him Timo Ocho yesterday) rounding out the 25.
The Clippers have been forced to sign guys off the street just to field a team. Who is Blaine Neal or Ken Ray?
The Indians move on to Minnesota Tuesday as David Huff looks to string two solid starts together against Kevin Slowey.
Let's just hope they don't lose anyone else to injury.