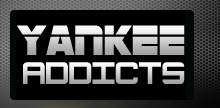 April 29, 2009 · Kevin Rozell · Jump to comments
Article Source: Bleacher Report - New York Yankees
(The Voice of Yankees Universe)
The voting has already started. Crazy..right? You can vote your Yankees to the 80th MLB All-Star Game, which will be held at Busch Stadium, in July 2009.
Yanks who won't make it: Gardner & Nady
Yanks who deserve it: Posada, Cano, Jeter (& Swish) Maybe Damon..
A Yankee who doesn't have great numbers just yet, but might get voted in: Teixeira
A Yankee who might make the team even though they haven't played a game yet: Rodriguez
A Yankee who isn't on the ballot, but definitely deserves it: Swisher
Let's face the facts here. The All-Star game is a popularity contest, and the best players don't always make it. The Yankees have a huge advantage considering they are in the biggest media market and have a huge fan base. Tex has gotten off slow, and he definitely could make the team. Players hit slumps, get injured, and turn a corner during the season. Who knows what will happen from now until the break, but that's how I would break it down. Don't forget to vote Nick Swisher as one of the Write-Ins on your ballot!