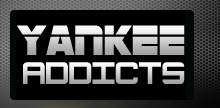 April 9, 2010 · Christopher Woodley · Jump to comments
Article Source: Bleacher Report - New York Yankees
Javier Vasquez (0-1) allowed eight runs on eight hits in five and two-third innings as Tampa Bay rolled to a 9-3 win, Friday night, at Tropicana Field.
Vasquez was making his first Yankees start since Game Four of the 2004 ALDS, at Minnesota.
David Price (1-0) improved to 2-0 all-time against New York, with a career-high seven and two-third innings. He allowed three runs on seven hits with seven strikeouts.
Vasquez held the Rays scoreless over the first three innings, and his teammates gave him a lead in the top of the fourth.
Nick Johnson singled to lead off the inning, his first hit of the season. With one out, Alex Rodriguez tripled off the wall in center field. Johnson beat the throw home as he scored from first base. Catcher Dioner Navarro's throw to third ended up in left field, allowing Rodriguez to score to give New York a 2-0 advantage.
The lead was short lived as Tampa Bay exploded for five runs in the bottom of the fourth.
Ben Zobrist led off with a four pitch walk and scored on Carlos Pena's first home run of the season. It was Pena's 16th career home run against the Yankees.
B.J. Upton followed with a single, stole second base, and scored on a two out single by Navarro. After Sean Rodriguez singled, Jason Bartlett's two-run double to the left field wall increased the Rays lead to 5-2.
In the bottom of the sixth, Upton doubled to lead off the inning and scored on Willy Aybar's two-run homer.
Sergio Mitre relieved Vasquez and allowed an RBI single to Carl Crawford and an RBI double to Zobrist to push the Tampa Bay lead to 9-2.
New York added a run in the top of the eighth on Johnson's RBI double.
Tampa Bay has won all three games this season after falling behind 2-0.
New York will continue their weekend series at Tampa Bay on Saturday.
CC Sabathia (0-0, 8.44) will face Wade Davis (0-0, 0.00). The first pitch is set for 3:10 EST.
Read more New York Yankees news on BleacherReport.com