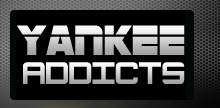 April 25, 2009 · Martin Avery · Jump to comments
Article Source: Bleacher Report - New York Yankees
Washington Capitals coach Bruce Boudreau compares the current first round NHL playoff series between his team and the New York Rangers to the 1960 World Series when the Yankees won three games by 10 or more runs over the Pirates but lost in seven games.
The comparison created by Boudreau has been reported widely. Many have noticed the series seems upside-down. Damien Cox said "the Rangers-Avery axis, it's clear, has become one of the stranger relationships in hockey, maybe in sports," in the Toronto Star.
He compared Sean Avery to Superman. In the past, Brett Hull compared Avery to the Green Goblin.
In that World Series, the Pirates were grossly outmatched against the Yankees.
New York had just won their tenth pennant in twelve years. The Yankees outscored the Pirates 55–27 in this Series, outhit them 91–60, out-batted them .338 to .256, hit ten10 home runs to Pittsburgh's four, got two complete game shutouts from Whitey Ford—and lost.
The Pirates' inconsistent pitching resulted in the peculiar combination of close games and routs.
The Capitals are outscoring the Rangers but the Rangers lead the series. The Capitals are out-shooting the Rangers incredibly but the Rangers are still winning games.
The entire series between the New York Rangers and the Washington Capitals has been peculiar. First of all, the Capitals are much better than the Rangers on paper but the Rangers turned out to be a bit better on the ice.
The Caps finished second in the Eastern Conference and the Rangers finished seventh but the Rangers have always led the playoff series.
The Caps have the NHL's leading scorer and the top-scoring defenseman. They were both held scoreless for the first three games.
Alex Ovechkin did not score a goal in the series until Game Four. Mike Green still has not scored.
The Rangers were not good on the road but they won the first two games in Washington.
The Capitals launched 187 shots at the Ranger net in five games while only allowing seven goals against, but the Caps trailed three games to two.
The Rangers penalty killing unit is great but the Capitals power play is also great, during the regular season, but New York's penalty killers are the clear winners in the playoffs.
Sean Avery, the Rangers' infamous agitator, draws a few penalties but takes several, which is the opposite of what was happening at the end of the season.
The Capitals scored one goal during Avery's seven penalties, but Avery got benched for taking too many penalties. The Caps scored four goals and easily won the game against the Rangers without Avery.
"Avery goes strange, Rangers win," Cox concluded; "Avery sits out, Rangers awful in defeat."
The Caps coach said Avery was the one player his team worried about and then the Rangers sat him out.