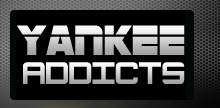 June 25, 2009 · PJ Ross · Jump to comments
Article Source: Bleacher Report - New York Yankees
Joe Torre is in charge of the Majors' best team. The Los Angeles Dodgers (47-24) have cruised through the first half of the season, even without the services of their best hitter for most of the campaign.
Now in his second season in Los Angeles, Torre directed the Dodgers to the NLCS last October and has them poised to make a run deep into the postseason once again.
But Torre never would have found his way to the west coast if it weren't for George Steinbrenner. George made Torre the scapegoat for an underachieving Yankee team that won 94 games three years ago.
When Torre left the Big Apple, the Yankees turned to a familiar face to replace Torre.
Joe Girardi, a catcher in his playing days, won three World Series championships with the Yankees under the direction of Joe Torre.
Girardi, also in his second season as skipper, has seen a struggling New York Yankees team play inconsistent baseball throughout the season.
Despite being seven games over .500, the Yankees have fallen five games behind division leading Boston.
The Pinstripes took a one-game lead in the AL East heading into Fenway on Jun. 9. Three days later, the Yankees left depleted and two games behind the Sox.
Now, they are trying to regroup after losing two out of three in South Florida to the Marlins, which followed losing two of three at home to the ridiculously bad Nationals.
Girardi was uncharacteristically ejected on Wednesday night in an effort to spark a stagnant Yankees offense. They were being no-hit into the sixth inning when Brett Gardner, the lone Yankee base runner of the game, was picked off of first on a questionable call.
Somehow, the outburst worked as the Yankees went on to score eight runs and finally get back into the win column.
Off the field, things are no easier for Girardi.
He must answer questions about Joba Chamberlain, who ESPN has already anointed as a future member of the Hall of Fame. Girardi gets bombarded with questions about Joba's role as a starter and has to deal with the second-guessing after any less-than-perfect outing from the big right-hander.
Perhaps, if big George were still in charge of the Yankees, there would be some level of accountability within the franchise for what has been a disappointing start to the 2009 season. George might not have been so patient with Girardi during a season where expectations were high, and making the postseason is a must.
The Yankees spent money over the offseason in order to rebound from missing the playoffs for the first time in 12 years.
Hank Steinbrenner, now in charge of things in New York, continues to sit quietly and make moves from behind closed doors. Unlike his father, who made sure that if something was wrong, everyone knew about it and everyone knew whom to blame.
I didn't care much for George's "throw you under the bus" style, but now, after we are removed from his tenure, it's clear that he had figured out how to get the most out of a star-studded team for years and years of success.
Hank is afraid to call out Girardi for running out a team that looks completely unmotivated.
Hank is afraid to call out A-Rod, who has been disgraceful as of late and still looks like he hasn't recovered from hip surgery.
Hank is afraid to call out Chien Ming-Wang, who is 0-6 with a ridiculously high 11.20 ERA.
And there is one man who couldn't be happier to be away from the circus that surrounds the Yankees.
Joe Torre sits comfortably 3,000 miles away, enjoying a seven-and-a-half game lead in the NL West. Next Friday, he gets to re-insert Manny Ramirez into a Dodgers lineup that already leads the NL in hitting at .278.
He also has a pitching staff that leads the league in ERA at 3.54.
So instead of Mike Francesa ripping apart Torre for what moves he should have made, the most difficult decision in Torre's near future is how to deal with Juan Pierre upon Manny's return.
Pierre is hitting .329 this season and has been the catalyst for a Dodgers' offense, playing with speed and doubles-power to the gaps.
Torre must decide whether to sit Pierre on the bench, or possibly have him split time with Andre Ethier. Ethier has been struggling and is hitting just .194 in his past 10 games.
But, like I said, things could be worse, and the way things are going out west; I don't think Joe will be making any holiday visits to the Yankees front office.