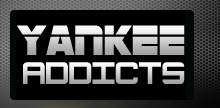 May 25, 2009 · Danny Vohden · Jump to comments
Article Source: Bleacher Report - New York Yankees
First and second, no one out, and teetering on the edge of yet another disappointing start.
This is exactly the spot Phil Hughes found himself in, in the second inning of a Memorial Day matinee in Texas.
After sitting down the Rangers 1-2-3 in the first, Hughes gave up a leadoff double to Nelson Cruz, and then hit Hank Blalock in the shoulder. Yankee pitching coach Dave Eiland immediately jogged to the mound to talk to his young pitcher.
After an injury plagued 2008 season, Hughes started this season in AAA Scranton Wilkes-Barre. However an injury to Chien-Ming Wang prompted his return back to the big show.
Hughes had hardly made an impression going 2-2 with a 7.06 ERA in five starts. To make matters worse for Phil, Wang was off the disabled list and seemed ready to take back his spot in the rotation.
All signs pointed to this being Hughes' last start in the bigs. That is, until that meeting at the mound.
Whether it was calming encouragement, or a kick in the pants, Eiland got through to Hughes.
The next batter up—a strikeout. Followed up by—a strikeout. Finished off by—a strikeout.
Hughes struck out the side, and cruised the rest of the day pitching eight shut-out innings, striking out six, and walking one.
In Hughes' last two starts, he has given up three runs, and struck out 15 in 13 innings.
I guess a trip back down to the minors is a good enough threat as any for a player after they've had a taste of the major leagues.
It seems logical for the Rangers to do whatever they could to trade for Hughes. After all, in Hughes' first start at the Ballpark in Arlington, he carried a no-hitter into the seventh inning before injuring his hamstring.
In two career starts in Texas, Hughes is 2-0 with a 0.00 ERA, and 12 strikeouts.
Could this latest start in Texas finally be the one Hughes needed to bring him from top prospect to top major league pitcher, the kind of pitcher the Yankees envisioned when they drafted him?
Well, he may not even have a choice. Wang is back on the roster in the bullpen, and it seems it's just a matter of time before he re-joins the rotation.
And a healthy Wang makes Hughes the odd-man out.
Even so though, it's extremely unlikely that the Yankees will go through the rest of the season without anymore injuries to their rotation. And it is probably safe to say that Hughes will be the first option should someone go down.
If Hughes goes on to have a big year this year, that coaching visit to the mound may have a lot to do with it.
However, for now it looks as if Phil Hughes may have finally made the leap from AAAA pitcher—a pitcher too good for AAA, but not good enough for the majors—to major league pitcher.
We'll see if he's even on the mound for his next scheduled start.