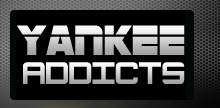 April 23, 2009 · Pat Doris · Jump to comments
Article Source: Bleacher Report - New York Yankees
I know this is a bit premature, but around the trade deadline when Matt Holliday is available, what do you give up for him?
The A's love young, major league-ready prospects and the asking price might be high. So if you're the Yankees, who do you give up for the prized left fielder?
A factor that needs to be considered when trying to acquire Holliday is that if you give up premium talent for him, you need to be able to sign him to a long term deal.
He cannot be just a rental for the Yankees trade because a) that's not their style of dealing, b) if the level of prospects traded were high, it would be imperative to sign him, and c) the thought of him being lured to Boston is always in the back of your mind.
We know what prospects will be floated around by Oakland management. Phil Hughes, Austin Jackson, and Dellin Betances are just some names that will be on the A's radar.
What combination of prospects would match the A's demands and not go over the Yankees' limit? And is there such a combination?
These are a few trade possibilities:
1. The Yankees receive: Matt Holliday.
The A's receive: Phil Hughes, Melky Cabrera, Ramiro Pena.
2. The Yankees receive: Matt Holliday.
The A's receive: Austin Jackson , Mark Melancon, Ian Kennedy.
What set of players do the A's go for: the package with more offense (1), or the package with more pitching (2)?
The centerpiece in package 1 is Phil Hughes, who has the makeup to be a front-line starter. The centerpiece of package 2 is Austin Jackson, who shows five-tool star potential.
Let me know which deal is better and if you have any alternative deals!