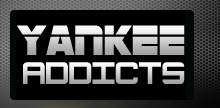 February 18, 2010 · michael eisner · Jump to comments
Article Source: Bleacher Report - New York Yankees
I just can't get enough of the Topps Million Card Giveaway.
Today, my travels took me to the Modell's by Grand Central Station where I scooped up 11 packs of "2010 Topps Baseball series 1" in search of Million Card Giveaway redemption cards, hoping to pull that elusive 1952 Mickey Mantle.
Out of the 11 packages, I scored three redemption cards (none of which was the Mantle (sigh)), and was lucky enough to "unlock" this 1958 Enos "Country" Slaughter, then of the New York Yankees.
A quick flip of the card in my online portfolio revealed that Slaughter was entering his 18th season in 1958, and had been to four World Series—two with the St.Louis Cardinals and two with the New York Yankees.
Slaughter, known as "Country," hit .300, slugged 169 HRs, and amassed 1,304 RBI over a career which spanned 19 seasons, of which his first 13 were spent with the Cardinals. He also missed three prime seasons (age 27-29) while serving time in the military during WWII.
As noted on the back of this 1958 Topps card, Slaughter won four World Series championships—two each with the Cardinals and the Yankees. He also was a 10-time All-Star and had his jersey number "9" retired by the Cardinals in 1996.
Slaughter was elected to the Baseball Hall-of-Fame in 1985.
Other Slaughter cards "unlocked" thus far on www.Toppsmillion.com include: 1952, 1953, 1956,1957, 1959, 2001 Topps Archives certified autograph and 2003 Topps Heritage "Real Ones" certified autograph.
Topps Million Card Giveaway redemption cards are randomly inserted in packs of 2010 Topps Baseball at a rate of 1 per 6 packs.
Read more New York Yankees news on BleacherReport.com