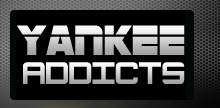 April 24, 2009 · Matthew Falkenbury · Jump to comments
Article Source: Bleacher Report - New York Yankees
This is the kind of weekend that has the suits at Fox Baseball salivating.
The New York Yankees will make the trip up I-95 to Fenway Park to take on the Boston Red Sox.
Over the years, this rivalry has been as hot as ever before. Villains like Pedro Martinez, Curt Schilling, Many Ramirez, Dave Roberts, and Kevin Millar are no longer around from those wars in 2003-2004.
But this rivalry has produced new enemies for Yankee fans to hate who have sprung up over the past few years to join David "Big Papi" Ortiz and the Sawx.
Today, Smoking With Hank will bring you another edition of the Top Five, where we will look at five current Boston Red Sox that get the Yankee blood boiling.
5. Josh Beckett
Although the hatred for Josh Beckett is rooted in his Game 6 performance in the 2003 World Series as a Florida Marlin, Yankee fans have enjoyed bombing this guy since he has been on the Red Sox.
An ace for the Red Sox since his trade from Florida and already a World Series Champion there, he is a great pitcher whose numbers in the regular season aren't great against the Yanks.
Then again, seeing him in a Red Sox uniform after his performance in 2003 is more than enough for Beckett to be hated.
Career vs. NYY: 12 Starts, 7-4, 5.33 ERA, .280 BAA.
4. David Ortiz
Make this same list five years ago and Big Papi is in the top two. However, that depends on the Yankee fan you asked and his level of hatred for Curt Schilling and Pedro Martinez.
In 2004, this guy really helped the himself get on this list with clutch hits in Game 4 and 5 of the ALCS—games that were en route to the Sawx' comeback, cause enough for Yankee fans today to loathe him.
Although the past few years have see Big Papi fall on this list to No. 4, what he has done to the Yanks in the past will always keep him in the top five.
Also, who can forget the guy who tried to bury an Ortiz jersey inside the New Yankee Stadium? The guy knew Ortiz was hated and tried, unsuccessfully, to jinx the Yanks.
Career vs. NYY: 118 Games, .313 AVG, 25 HR, 90 RBI.
3. Dustin Pedroia
Much like a fly, you try and you try and you try but you just can't kill the pest that is Dustin Pedroia.
He ran his mouth during his rookie season after a series in the Bronx after a wide, take-out slide on A-Rod. He won Rookie of the Year and a World Series that same season, and an American League MVP the following year.
When someone does that on the team you despise, you're going to hate them even more.
Pedroia is someone who is always coming up with the big hit, and in limited action against the Yankees has already done a nice job. Oh, did I also mention he also is on the cover of MLB '09: The Show?
At least we know where to pitch him: high and inside.
Career vs. NYY: 34 Games, .321 AVG, 1 HR, 18 RBI.
2. Kevin Youkilis
The man at No. 2 is someone who burst onto the scene just in time to annoy the crap out of Yankee fans and also win a 2007 World Series ring.
Kevin Youkilis is a hated man in New York, specifically the Bronx. He has a stance that just looks annoying, he's always screaming and yelling, and of course he comes up with the big knock when needed.
The Youka, as he is called by Sawx fans, has been front and center in the rivalry the past couple of years. His head has been a frequent target for baseballs thrown by Joba Chamberlain.
Chamberlain will actually be making the start today, and that means we may see some hunting along with our baseball tonight. I'm sure Youkilis is waiting with baited breath.
Can you say brawl?
Career vs. NYY: 58 Games, .308 AVG, 4 HR, 32 RBI.
1. Jonathan Papelbon
And now we have reached No 1.
Over the past couple of years, Papelbon has both river-danced and trashed Mariano Rivera enough that Yankee fans have a new public enemy No. 1.
When he told the media at the 2008 All-Star Game—in Yankee Stadium, no less—that he should close ahead of Rivera, the reaction was, well…loud.
When he entered into the game, Papelbon was greeted with a rousing chorus of "OH-VER-RATE-ED."
In the end, when you trash one of the most beloved Yankees of all time and your a member of the hated Red Sox, your going be hated yourself.
Career vs. NYY: 22 Games, 0-3, 7-9 in save opp., 4.43 ERA, .217 BAA.
So, there is my list of the Top Five hated Red Sox as of today. I hope you all enjoy the series this weekend. Let's find new people to hate and new reasons to hate the people above.
LET'S GO YANKEES.
– The Falk