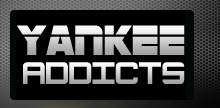 May 8, 2009 · Matthew Falkenbury · Jump to comments
Article Source: Bleacher Report - New York Yankees
Well, the fans and media that occupy Yankee-land have started to push the panic button.
After a two game sweep on Monday and Tuesday, the Yankees have now lost five in a row to the Boston Red Sox. Then after coming back from down three to the Rays on Wednesday, only to see that wasted by a Phil Coke fastball to Carlos Pena that went very far in the 10th, the Yankees last night saw the ultimate sign of the apocalypse.
First Carl Crawford goes deep…and before Yankees could rub their eyes in disbelief of what just happened up comes Evan Longoria and out goes Evan Longoria. 8-6 Rays, Mariano Rivera stunned, as he gives up back to back bombs for the first time in his Hall of Fame career and Yankee fans bitter and upset.
Well, we all have a right to be annoyed as we watch this group of overpaid underachievers take the field night after night already looking beat.
Have no fear though, I'm back with another version of the Smoking With Hank Top Five. This time I'm focusing on how in just five ways, the Yankees season can be saved and order restored to the Yankee Universe. Enjoy!
5. Improve their record against the AL East
The Yankees this season are 3-10 against the AL East, and they still haven't faced the first place Blue Jays yet. The only way this team is going to go anywhere in this division is to take care of the teams that it shares it with. It starts in Baltimore and Toronto this week and winning at least four of six would be a wonderful start.
4. Find a way to get Tex on track
Mark Teixeira is a career .287 hitter, who in almost five weeks into a huge contract with the Yankees is hitting .198, that wont cut it in the Bronx. He is way too good of a hitter to keep this up, but the longer it goes the more the Yankees are going to suffer. A-Rod return will of course be massive for Teixeira, but he has to do it on his own as well. Shutting up the boo-birds in Baltimore would be a good start and lets hope his three run double on Wednesday night is the spark of good things to come.
3. Get the fire back with a signature win
We all thought that the win over the Oakland A's a few weeks back in 14 innings was that early signature win for the Yanks. Well one Jason Bay homer in Boston seemed to wipe that away pretty easy. The fact is that the Yankees need a solid 9-2, 8-1 type win to get the ball rolling here, playing in Baltimore should help that cause. The Yankees have to build up that fire and beating up on Baltimore and Toronto will do the trick.
2. Move Joba to the bullpen
This one I know will be disputed in the comments below. But I'm a Yankee fan who believes that Phil Hughes is good enough to allow Joba to go back to his role in the 8th inning and make the best one-two punch in any bullpen anywhere. I know in his last start Joba had 12 k's, but with his pitch count being monitored so, he could only go five-and-two-thrids and eventually left the pen to try to get seven outs before Rivera…not Good.
With Joba in the pen, it takes the pressure off of Bruney, Veras and Marte and allows the Yankees to shorten up the game by as many as 6 outs before Mariano comes in to shut the door. Moving Joba to the pen is a good idea and can only help the Yankees. Its time to trust Hughes and make the Bullpen as strong as it can be.
1. Get Healthy
This team hasn't been playing with a full deck. A-Rod, Nady, Wang, Bruney, Marte, Posada, Molina have been hurt or are hurt as I write this piece. Once this team gets it all on the field at once, the monster team we all thought we were getting will finally be ready to go. I know with Jeter, Damon, Tex, A-Rod, Nady, Swisher, and Posada, the Offense will be as good as advertised.
The Pitching, with a healthy Wang, a more confident Hughes, with AJ, CC, and Pettitte as well, nobody can turn back the Yanks. Plus Joba and Mo and Bruney in the pen, how could this team keep struggling? Get all your injuries out of the way now guys, better now then in September.
Those are my Top Five, Agree? Disagree? Tell me all about it below.
Also, don't forget to check out my blog Smoking With Hank!