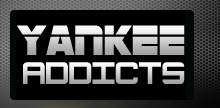 November 22, 2012 · Phil Watson · Jump to comments
Article Source: Bleacher Report - New York Yankees
Over the years, Thanksgiving has become associated with traditions aplenty. From carving up a turkey to watching football with the family, the holiday has taken on many rituals.
The traditional tale dates back to Plymouth Rock in 1621, according to MSNBC.com, with a meal to celebrate the Pilgrims' gratitude to the Native Americans for teaching them to farm.
But there are conflicting stories about the tradition:
Residents of San Elizario, Texas, claim the first Thanksgiving feast was celebrated in 1598 by Spanish explorer Juan de Oñate…

Spanish Admiral Pedro Menendes de Aviles is said to have celebrated the first Thanksgiving feast with 500 soldiers and hundreds of the local Timucuan Indians in 1565 in St. Augustine, Fla.
While the origins of Thanksgiving may be in some doubt, the traditions of the New York Yankees are much less speculative and easier to quantify.
With Thanksgiving as a backdrop, here are the top 10 New York Yankee traditions.