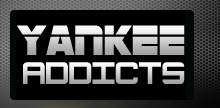 May 1, 2009 · Matthew Falkenbury · Jump to comments
Article Source: Bleacher Report - New York Yankees
Over the years, athletes on other teams have come to New York and have gone above and beyond their abilities to have them become legends for being NY Team Killers. Reggie Miller, Manny Ramirez, Michael Jordan, Dan Marino, Emmitt Smith, Mario Lemieux, Greg Maddux have all come along in the past 20 years and have been killing our favorite teams in New York. Now we have a new group of enemies that New York fans just love to hate and this is my top 10 of those athletes.
My Criteria: I first wanted every team reprsented that is a New York based team, so at least each team and the player I feel is hated the most by the fans of team are listed.
Outside of Marbury, cause he is a special case, players who played in NY and performed badly before leaving are not included. So no Carl Pavano, no John Abraham, no Aaron Heilman. That could be a list all by itself and so it wont be on this list.
The Islanders (Who cares about them), The Devils/Nets (Not NY Teams) were not involved.
So Without further stalling, here they are, the Top 10 Athletes hated by NY Fans….Enjoy!