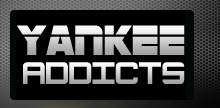 October 7, 2011 · Joseph Healy · Jump to comments
Article Source: Bleacher Report - New York Yankees
They say the definition of insanity is doing the same thing over and over all the while expecting a different result.
If that's the case, the Yankees would be insane to come into spring training next season with the roster they currently have. It's clear at this point that this group just doesn't have what it takes to bring the Yankees another championship.
Their season record looked nice and they had a lot of big names on their roster, but when it came down to it, their team was being held together MacGyver-style with chewing gum and paperclips.
Something has to be done about their starting rotation. You can survive in the regular season with Ivan Nova, Bartolo Colon and Freddy Garcia in your rotation, but in the postseason, that's not going to get it done. You can't win a championship with CC Sabathia and little else in the starting rotation.
You also can't help but feel like many of the Yankees' veterans are just hanging on.
Jorge Posada almost got left off the postseason roster and we very well may have seen the last of him in a Yankees uniform after this loss to Detroit.
Derek Jeter rebounded to hit .297 in the regular season, but he no longer hits for power, and I don't think his slow start to the season was any fluke.
I don't think Alex Rodriguez is done being an elite player, but you have to be concerned about how things went in 2011 if you are a Yankees fan. He ended up hitting .276 with 16 homers and 62 RBI. He was injured at different points of the season, but he also just never seemed to get locked in.
Among position players, the Yankees have to feel confident in Mark Teixeira, Robinson Cano and Curtis Granderson, but that's it.
Other contenders in the American League aren't going away. The Red Sox and Rays will be back next year, and the Rangers really have the look of a team that is built for long-term success.
For the first time in several years, it looks like the Yankees are going to have to make roster moves just to catch up to others in the league.
If they don't make some changes, we will be right back here next season, talking about what the Yankees have to do to get back to winning championships.
Read more New York Yankees news on BleacherReport.com