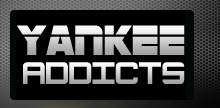 September 30, 2011 · Kyle Vassalo · Jump to comments
Article Source: Bleacher Report - New York Yankees
It doesn't get any better than C.C. Sabathia and Justin Verlander squaring off in Game 1 of the Yankees vs. Tigers series. Not only will this pitcher's duel determine who comes away victorious in Game 1, but it will also ultimately decide who takes the series.
This is where teams truly get to cash-in on the value of having an elite ace. A loss for either team with their ace on the mound will resonate throughout this series.
If the Tigers were to go on the road and steal away a victory against Sabathia in Game 1, it would set the tone for the entire series. Detroit has to prove they aren't going to be deterred by the Yankees' overwhelming wealth of experience, big names on the roster or amount of championships they've acquired in their rich history.
What better way to do that than going into Yankee Stadium and taking down their best pitcher in front of their home crowd?
On the other hand, Sabathia shutting down the Tigers would be a demoralizing blow to Detroit. Verlander failing to deliver would suggest that this series is going to go exactly as most people expect it to.
Verlander and Sabathia embody everything you would ever want in an ace. Teams can be carried into the postseason by their hitting, but it's teams with dominant pitching who cash-in come October.
There is no better way to kick off the postseason than with a pitcher's duel of this magnitude. The winner of this matchup will ignite momentum that carries well beyond this game.
It's going to be close, but Sabathia should prove that he's worth every penny the Yankees are likely to ship to him once this season is over. It's going to be tough for Verlander to steal a victory on the road with a pitcher as talented as Sabathia keeping the Tigers in check.

Read more New York Yankees news on BleacherReport.com