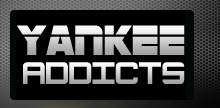 February 19, 2013 · Stephen Skinner · Jump to comments
Article Source: Bleacher Report - New York Yankees
For the better part of eight seasons Robinson Cano has provided the New York Yankees with a stable, All-Star caliber second baseman that ranks among the best the franchise has ever put on the diamond. However, that stability and top-tier talent from the second sack could be coming to an end, and the team will need to have backup plans following the upcoming campaign.
As a Yankee, Cano has hit for average (he holds a .308 career mark) and power (177 home runs, including 33 last season) while also winning two Gold Gloves (including one in 2012).
The 30-year-old known for his effortless swing and powerful arm will be a free agent after the 2013 season. As such, he will command top-dollar and is certain to be courted by multiple teams from both leagues.
As Joel Sherman of the New York Daily News wrote, Cano won't be giving the Yankees a leg up in negotiations.
Should this be the final season in pinstripes for Cano, the team will need to exercise one of three options at its disposal.
In House
Twenty-four-year-old Corban Joseph is the heir apparent at second base within the New York Yankees organization. Last season, he hit .276 with 15 HR and 62 RBI in 107 games while splitting time between Double-A Trenton Thunder and Triple-A Scranton/Wilkes Barre Yankees.
In the field, he is adequate and last season posted a .970 fielding percentage. On the base paths he is not a threat to run, as he didn't steal a base in 2012 and has only swiped a total of 20 bags in his minor league career (five seasons).
Is Joseph the best fall-back plan should the Yankees not resign Cano? Probably not, but he is already under the umbrella of the organization and would at least give them a stable presence in the lineup.
Free Agency
Cano isn't the only free agent second baseman in 2014, and there are other potentially "cheaper" options for the club to pursue, if he goes elsewhere.
Among those to be considered are Ben Zobrist, who wields a powerful bat (averages 20 HR per season) and decent glove (.985 fielding percentage at second base). Over the last four seasons, Zobrist has actually posted a higher average WAR than Cano (6.6 to 6.3).
Depending upon whether the Rays exercise their option on him (they hold a $7 million option in 2014 and a $7.5 million option in 2015), Zobrist would be a viable (if not more economically friendly) target for the Yankees in 2014.
When it comes to free agency, GM Brian Cashman has shown a preference signing older, veteran players (Ichiro Suzuki, Kevin Youkilis, Hiroki Kuroda, Freddy Garcia et. al), and Chase Utley would fit into that mold, too. The 34-year-old is a free agent in 2014 and still has some productive years ahead of him.
At the plate, Utley carries a .288 lifetime average and when healthy, has shown above-average power (199 HR in 10 MLB seasons). As a left-handed hitter, he would be a great fit for the short right-field porch in Yankee Stadium.
In the field, he holds a decent .982 fielding percentage at second base, and given that he is approaching the downside of his career, he would give the Yankees another less-expensive option than Cano in 2014.
Trade
Finally, there is always the opportunity for the Yankees to make a deal for a second baseman prior to 2014. The organization has shown a willingness to part with top prospects to acquire talent it has its eyes on (the Jesus Montero / Michael Pineda deal comes to mind).
If it finds free agency or in-house options unappealing when it comes to contingency plans at second base, look for the team to once again dip into its system to swap talent with other organizations.
Top prospects like catcher Gary Sanchez, or outfielders Mason Williams and Tyler Austin are players that other franchises might be willing to discuss in giving up their second baseman.
A further draining of the pool of talent in the minor leagues is not palatable to Yankees fans, but given the team's history, it is not something that will be overlooked when trying to put together a "plan B" should Cano find another city to call home.
Read more New York Yankees news on BleacherReport.com