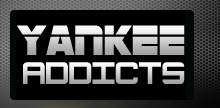 June 11, 2009 · Heartbeat Of The Bronx · Jump to comments
Article Source: Bleacher Report - New York Yankees
Though it has been repeated again and again ad nauseam over the course of baseball history, there is no rivalry in the sport as passionate as the Yankees and Red Sox.
Once fueled by the bitterness of a Babe Ruth fire sale, the hatred between the two clubs and fanbases has only multiplied and fortified itself over decades of bloodshed.
The perceived presence of a "never-ending" Curse of the Bambino gradually carved doubt in the minds of Red Sox Nation—creating a feeling of impending doom as opposed to assured confidence.
Moments in history stemming from Bill Buckner to Bucky Dent to Aaron Boone helped to provide New York with as much of an advantage between the ears as they had between the white lines.
It would take a perfect storm in order to free New England of its drought in swagger, and its prayers were answered in the form of a team that eerily mimicked the Yankee teams that once shattered their hearts.
These Sox were emotionally tough, gritty, and determined. They cherished every one of their 27 outs, understanding that the game was never over until they had used up their inventory.
With names like Pedro Martinez, David Ortiz, Manny Ramirez, and Jason Varitek, Boston developed a new identity and an unwavering sense of entitlement.
For the first time in years, these New Englanders decided to write their own history—instead of succumbing to what past history had informed them should happen. If "believing is half the battle," Boston was well on its way to achieving what had eluded them for the better part of a century.
It understood that Babe Ruth, Lou Gehrig, Joe DiMaggio, and Mickey Mantle were buried under the dirt instead of running on top of it.
It realized that David Cone, Paul O'Neill, Tino Martinez, Scott Brosius, Roger Clemens, and Andy Pettitte had traded in their pinstripes for suits or other insignias.
Natural talent and athleticism can only take a player or roster so far, and the impact of a mental advantage cannot be overlooked or neglected—especially in America's Pastime.
Baseball is a sport sitting on the foundation of mind games and statistics, hot streaks and slumps, superstitions and curses. If a player truly believes wearing the same socks for a week will maintain his production, then he will likely go 2-for-4 that day.
Any mental advantage can provide a placebo effect for those whose "nine to five" occurs on a baseball diamond, and no circumstances better depict this than the Yankees-Red Sox phenomenon.
After a well-documented 86 years of ineptitude and sorrow, it took just one playoff series to completely change the rivalry's landscape. Just one collapse in the biggest of moments allowed Boston to see New York as any other team.
The Yankees were no longer gods or immortals—they had suddenly had a chink in the armor exposed for all to see. The Red Sox were transformed into a poisoned arrow, and the Yankees were now Achilles.
Nothing has changed since that fateful day on Oct. 20, 2004, as Game Seven of the ALCS forced the evolution of a new culture in the American League East.
As New York stares at an embarrassing 0-7 record against its hated rival, it appears to expect to lose—when it once anticipated a memorable victory. The Yankees need their own magical October moment to once again flip the script and will be at the mercy of Boston's self-assurance until that time.
The season series will not end at 0-18, and many wins are left on the table for New York to capture.
The problem is, the team that relishes the sport's biggest moments now sits in the home dugout of historic Fenway Park—when it once crammed itself into the claustrophobic quarters of the visitor's clubhouse.
A mountain of pressure now weighs down the broad shoulders of Yankees starter CC Sabathia today, as Yankee Universe begs for a salvaging of some shred of dignity. New York's ace may pitch a spirited gem against the Red Sox and Brad Penny. He may even falter like every other starter in the rivalry's recent past.
Either way, the mental edge will remain in Boston's favor until New York boldly takes it back from them. They need to once again respond to Red Sox red like a stampeding bull, as opposed to picturing the continuous bloodshed that 2009's rivalry has greeted them with.
The tables will turn, and the balance of power will shift down the eastern seaboard. The only question is, how long will the Yankees and its apprehensive fanbase have to wait?
Also seen at: Heartbeat of the Bronx