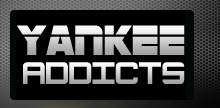 April 19, 2009 · Jose V. Rodrigues · Jump to comments
Article Source: Bleacher Report - New York Yankees
Speaking of the problem with the Yankees does not involve a discussion of baseball. No coach can fix it; maybe a manager could, but it is not something a skipper or a new pitcher can correct.
The problem with this tremendous franchise lives in Cooperstown, in the record books, and in the Yankees' Museum.
The problem lies in their 26 World Series, their 39 AL pennants, and in all their HOFers.
The problem is the prestige of wearing the pinstriped jersey and the navy blue cap.
How can a team that hires the league's best players not win a title? How can a team that spends half a billion dollars not take home the ultimate prize?
The problem is not lack of talent, nor bad fans; it's the mental strength of the players.
When players are acquired by the Yankees, they feel as if they have achieved everything. As if the pinstripes were their ultimate goal, as if the jersey would do all the work.
As if being a Yankee means that you're going to win a title.
Important newsflash: It doesn't.
All-Stars have been picked up by and dropped from the Yankees, but it seems as if, at least during the past few years, no one can win a title in the Bronx.
The problem with the Yankees is so simple that I don't need to write a four-page essay on how some pitcher is underperforming or some hitter is playing awfully this season.
The problem is that any player that arrives in New York with a fantastic contract feels as if he has peaked. Like there's nowhere for him to go.
It's not worth it, so why bother? They won't pay even more, so it does not matter if the team wins or loses, because the guys out on the field are getting paid even if the team sucks and loses embarassingly against every other ballclub.
The only way to fight this attitude is with work ethic. Let's keep it simple, shall we?
If you're hired by some company and they require you to keep up with a production of x, you're fine with it, aren't you? If you do not keep up, you're out. That's how it works for the "average Joe."
Now, let's take this example and apply it to the recent history of the Yankees.
If a player gets hired and the Yankees demand him to keep up with his stats, then there should be no problem. He's playing with better players, so it should be easy, right?
So if he plays so bad that everyone can beat his team, then he should be cut out (that is, if he isn't injured, of course).
That does not happen, but for me, it is the only way to get things straight at Yankeeland. Take from the players the "big-buck" guarantee, and you'll have All-Star performances, no doubt.