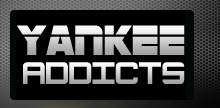 October 3, 2010 · mike mirabella · Jump to comments
Article Source: Bleacher Report - New York Yankees
You can say a lot of things about the New York Yankees. They've got the most money, their offense is unbeatable, the list goes on and on. However, one thing you can't say is that their starters are a lock every time they take the mound.
A.J. Burnett has been up and down, Hughes has been shaky but good for the most part, and Javier Vazquez was demoted to the bullpen.
This has arisen many issues like, "Who starts Game 2? Well they go with three starters like last year, or four?"
Joe Girardi, who has already received much criticism from New York's fan base, will undoubtedly receive more once he announces his choice. They will play game 162 still trying for the division win, and they can do so if the Rays lose and they win, but manager Joe Girardi will most likely be worrying about his playoff roster.
The Yankees will be trying for their 28th title, and this is the how the playoff rotation should look like for New York.