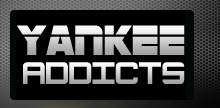 December 22, 2009 · The Sportmeisters · Jump to comments
Article Source: Bleacher Report - New York Yankees
Game # 8 – Boston Red Sox vs. New York Yankees – 2003 ALCS Game 7
With the end of the decade nearing, Sportmeisters Derek and Ryan have decided to present their top ten games of the past decade. Today's discussion is on the tenth best game from 2000-2009. What follows is a transcript of their discussion.
Sportmeister Derek: Ryan, today we are here to discuss something that will be debated for the next few weeks. With 2010 on the horizon, we are naming our top ten games of the decade.
Sportmeister Ryan: Absolutely Derek, these games will bring an enormous amount of discussion, as it did in just us figuring out our list. Today we're looking at our eighth best game of the decade, and that is the 2003 ALCS Game 7 between the New York Yankees and Boston Red Sox.
SD: Let's rewind a bit to set ourselves up. The Yankees were trying to get themselves back to the World Series after a disappointing ending to what looked like a promising 2002 season. The Yankees had finished 2002 with a league-best 103-58 record, but were ousted in the ALDS by eventual World Series Champions, the Anaheim Angels.
SR: New York had not won a World Series since 2000, when they beat the New York Mets in the Subway Series. After losing in Game 7 in 2001 (an honorable mention of ours, by the way), and 2002's failure, Yankee fans were getting irritated.
SD: Indeed, so as Owner George Steinbrenner is noted for doing, he made some moves, flashing his wallet to pick up necessary pieces. It started with the off-season signing of OF Hideki Matsui.
SR: Notable moves made during the season included the acquisitions of RP Dan Miceli, OF/DH Ruben Sierra, RP Gabe White, 3B Aaron Boone, and RP Jeff Nelson. Aaron Boone, that name strikes a chord, huh Derek?
SD: Yes, Ryan, but we're not quite there yet. Boston made some moves as well after missing the 2002 playoffs for the third straight year. They were quite sick of being the constant number two to New York.
SR: Two huge moves that need to be mentioned themselves were the signings of 1B/DH David Ortiz and 1B/OF Kevin Millar by brand new GM Theo Epstein.
SD: Those moves definitely highlighted a shift for the Red Sox in years to come. They also made some solid in-season moves, stockpiling pitching with trades for RP Byung-Hyun Kim, RP Scott Williamson, SP Jeff Suppan, and RP Scott Sauerbeck.
SR: For the Red Sox though, they still finished number two to the Yankees, as New York won the AL East with a 101-61 record, and Boston claimed the AL Wild Card, finishing six games back of New York at 95-67.
SD: Both teams made it through the ALDS with relative ease, the Yankees defeating Minnesota Twins 3-1, and Boston going the distance against the Oakland Athletics 3-2 to setup the AL East ALCS showdown.
SR: Neither team really gained beyond a one game advantage in the series. Boston took games 1, 4, and 6 while New York took games 2, 3, and 5 to setup a 3-3 tie and a final battle in Game 7.
SD: This game featured each team's ace as Pedro Martinez faced Roger Clemens in a rematch from Game 3, where Clemens got the win, pitching six innings, allowing just two runs, and Martinez took the loss, allowing four runs in seven innings.
SR: The Red Sox were looking to snap The Curse Of The Bambino in The House That Ruth Built, and they looked strong early, gaining a 4-1 lead on a Trot Nixon home run, Jason Varitek scoring on an error, and another home run by Kevin Millar. After looking strong in Game 3, Clemens was removed after facing three batters in the top of the fourth.
SD: The only New York offense came from Jason Giambi, whose solo home runs in the bottom of the fifth and seventh kept the Yankees in the game, albeit slightly.
SR: Newcomer David Ortiz would match that with a home run in the top of the eighth to widen the lead back to three runs, 5-2.
SD: The scene was set. Boston led 5-2 in the bottom of the eighth inning. Pedro got the first out and it looked like he had just enough left in the tank, but then he allowed a double to Derek Jeter and an RBI single to Bernie Williams and that brought then-Red Sox Manager Grady Little to the mound.
SR: Now, Pedro had pitched a marvelous game, facing no more than four Yankee batters an inning since the first inning. However, he did get hit around in the seventh, and with one out in the eighth, he had already thrown 15 pitches. Clearly, it was time to turn to the bullpen.
SD: Amazingly though, Little decided to keep Martinez in the game, later stating it was the best option they had. If that was the best option, I wonder what he had in the bullpen.
SR: Now, Martinez did get to 0-2 on Hideki Matsui, before Matsui smacked a ground-rule double, putting runners on second and third with one out.
SD: Jorge Posada then came up to face Martinez, and after working the count to 2-2, on Martinez's 23rd pitch of the inning, and what would be his last of the game, Posada hit a bloop double to center, bringing in both Williams and Matsui, tying the game 5-5.
SR: We talk a lot about momentum switching sides, and it truly did right there. Yankee fans felt they were winning, and Red Sox fans were hoping for the best, but had to be truly prepared for the worst. Nevertheless, the game was still far from over.
SD: The next two and a half innings went scoreless with little happening as Alan Embree, Mike Timlin, and Tim Wakefield shut down the Yankees and Mariano Rivera stopped the Red Sox.
SR: I find it funny, Little says he didn't have anyone better, but right there he had three pitchers, who effectively stopped the Yankees for a short time. Just a bad overall management call by Little, and I guess it explains why he was fired after the season.
SD: Then came the bottom of the 11th. Little left Wakefield in the game to face Aaron Boone, who had come into the game in the eighth as a pinch runner and had yet to have a plate appearance.
SR: Being a knuckleball pitcher that most batters don't deal with, and a starter who, up to that point in the game, had thrown one inning in the game, Wakefield had plenty left in him, but one pitch ended that quickly.
SD: Boone, who was only 2-for-16 in the ALCS up to this point, hit the first pitch he saw into the left field stands. A walk-off home run in extra innings, what a way to end such a great game.
SR: Boone has since been remembered during every Yankees' postseason, and while he won't go down as one of the best hitters, he did just enough on one night to be remembered in Yankee lore, and postseason MLB history.
SD: This game had it all and that is why we have named it our number eight game of the decade. Stay tuned for the rest of our top ten coming up in the next few weeks. Any questions or concerns, feel free to email us at Derek@Sportmeisters.com or Ryan@Sportmeisters.com .
Read more New York Yankees news on BleacherReport.com