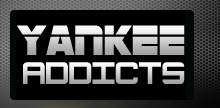 June 5, 2009 · Jessica Reuter · Jump to comments
Article Source: Bleacher Report - New York Yankees
We all remember where we were on September 11, 2001. I was twelve years old, in bed sick, watching SportsCenter as usual. I suddenly got bored with the current sports topic at hand and randomly switched the television to Good Morning America.
The picture on the screen before me was of the North Tower of the World Trade Center's Twin Towers, the top of the building filling with gray smoke. Matt Lauer explained that a plane, most likely small, ran into the top of the skyscraper. Moments later, the second plane hit the South Tower right before my eyes. It was 9:03 a.m., and panic ensued. I yelled for my mother.
"A huge 747 plane just flew into the World Trade Center," I told my mom. I scrambled to turn on the television in the living room, to expose the tragedy to someone that I felt could protect me. It scared me to know my mom felt as helpless as I did.
I paced around my living room as my mom and I heard that the Pentagon had been hit by a third plane, and a fourth plane had gone down in Shanksville, PA. "Terrorists did this. I know it. I know it," I said breathlessly.
The day went by in a blur. I called my best friend after she was picked up from school—it was her 13th birthday. There would be no party today. There would be no planes in the sky tonight. There would be candles in the windows of my neighborhood. There would be tears pouring down my face as I watched for Larry King to make sense of all of this. I was just a kid. I couldn't imagine that such hatred would manifest so close to me.
I could tell everyone in my family, in my community, and in the country was pretty lost after 9/11. We bought American flags, listened a little harder when our neighbor would talk, and missed our favorite sports teams as they took time off to mourn and be safe. I think my psyche was shattered a bit. The only thing that healed me in the least that autumn were the New York Yankees.
There was nothing I loved more in middle school than the Yanks. I had a whole entire wall devoted to them in my room, with Derek Jeter taking up most of it. I would scream at the top of my lungs every time one of the boys hit a home run. I watched every game that wasn't on when I was in school. And on Halloween night, as the Yankees played in the World Series against the Arizona Diamondbacks, I didn't trick or treat—oh no, my pinstriped pals were too important.
On that faithful night, as the city of New York and American Yankee fans everywhere clung to the blue and white, a strong Curt Schilling pitched for the Diamondbacks. After seven innings, Schilling left the game, keeping the score tied 1-1. In the top of the eighth, the D'Backs took a 3-1 lead on an Erubiel Durazo double.
Byung-Hyun Kim, who replaced Schilling in the seventh inning, struck out the Yankees' side in the eighth, but the Yankees rallied back in the ninth. Jeter tried bunting, but was out by one step. Then Paul O'Neill lined an opposite-field single in front of left fielder Luis Gonzalez. After Bernie Williams struck out, Tino Martinez hit a two-run homer on the first pitch from Kim. The game was now tied 3-3.
The Diamondbacks decided to stay with Kim, but as the clock struck midnight, the date became November 1st and Derek Jeter hit a walk-off homer to gloriously end the game. He was dubbed Mr. November, and New York City was energized. It was a bittersweet moment.
I just want to thank the 2001 Yankees for playing with all of their hearts that year, even though they ended up losing the World Series. Though not victors, the NYY gave their fans a reason to smile; a reason to get excited again. They also gave Americans, in general, a compelling, positive news story to take their minds off of the darkness that had fallen like a veil over our country.