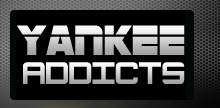 June 3, 2009 · Colin Linneweber · Jump to comments
Article Source: Bleacher Report - New York Yankees
The New York Yankees defeated the Texas Rangers 12-3 Tuesday night at the New Yankee Stadium in the Bronx to earn their 16th victory in 20 games.

A.J Burnett (4-2, 4.69 ERA), 32, pitched seven solid innings and yielded a measly three earned runs as the Bombers advanced to 10 games above .500.

The Bombers, who at 31-21 have the best record in the American League, had played a Major League Baseball record 18 consecutive errorless games before catcher Jorge Posada committed an errant throw from the plate in the fourth inning last night.

"Obviously there was going to be another error at some point, but I think the consistency of your defense can play the whole season," said Yankees Manager Joe Girardi.
"A lot of it is mental preparation, I believe, and physical preparation. Defense is one of those things that you can control, a lot better than maybe some of the other parts of the game."
Yankees icon Derek Jeter, who became just the fourth active player to record 1,500 runs in his career when he scored in the fourth inning, applauded the Bombers keen defensive prowess and he emphasized that the historic feat was a collective team effort.
"It's quite an accomplishment," Jeter, 34, acknowledged. "A lot of people deserve credit, because that's a complete team effort. We've had routine plays, spectacular plays – we're making all of them, pretty much. That's one of the reasons why we've been winning."

Yankees pitcher Andy Pettitte (5-1, 4.10 ERA), 36, credited much of the defensive improvements to the addition of first baseman Mark Teixeira, 29, a two-time Gold Glove winner.
"How many runs has he saved already this year on balls that might have got down the line or balls that got by him that could have scored runs?" Pettitte wondered of the prized free-agent acquisition who twice won the Silver Slugger Award when he played in Arlington.
"It's been a huge asset to this team, already."
Girardi emphasized how important it is for a ballclub with championship aspirations to play sound defense in the field.
"We're not giving teams a whole lot of extra outs and, as we all know in the American League, extra outs can lead to big innings, and that's dangerous," Girardi said.
As a vital complement to the Yankees stellar defense, New York has also thrived both at the plate and on the hill since overcoming their April struggles.
The Yankees are collectively batting .280 as a team and they have already scored 288 runs in only 52 games to date.
The return of Alex Rodriguez, 33, has had a ripple effect on the Bombers lineup and no single player has reaped the benefits of "bitch tits'" presence in the lineup more than Teixeira.
The former Georgia Tech University star has thrived since his early tribulations at the plate and he has launched 16 home runs and registered 44 RBI after being the unfortunate recipient of numerous Bronx Cheers in the early-spring.
Still, perhaps more than any other factor, the Yankees pitching has become as dominant as initially advertised and their powerful arms have helped propel New York to their rightful place atop the American League East.
In addition to Burnett and Pettitte, CC Sabathia (5-3, 3.46 ERA), 28, Joba Chamberlain (3-1, 3.71 ERA), 23, and Phil Hughes (3-2, 5.45 ERA), 22, have all flourished in their recent starts and it is now evident that the Bombers starting rotation is among the elite staffs in Major League Baseball.
As an added luxury, Chien-Ming Wang's sinker is sinking again and one can expect the two-time 19-game winner to rejoin the Yankees rotation in the near future.
"We're happy with the progress that he's made," said Girardi of Wang who, in three relief outings, has allowed only two runs in eight innings since his return from the DL last month.
Despite the noticeable improvements made by the precocious Hughes, it is indisputable that Wang, 29, the second fastest Major Leaguer to record 50 wins as a starter since Dwight Gooden, deserves a spot in the Yankees rotation.
When Wang ultimately resumes his position, Hughes could prove to be a vital asset to the Bombers precarious bullpen.
It is not uncommon for young hurlers to hone their craft working in relief and such a role change could benefit Hughes and the Bombers in both the short and long terms.
At this particular stage in the season, the AL East does not seem to be quite as arduous as originally predicted.
The Tampa Bay Rays (26-28) are still trying to recapture their swagger from last year and the Boston Red Sox (30-22) have played mediocre baseball over the course of the past few weeks.
Granted, the Rays are loaded with talents and Boston is a proven winner and both franchises could quickly ascend up the American League ranks.
But, Tampa Bay seems to lack some substance and the Red Sox are virtually devoid of power now that David Ortiz has either stopped utilizing performance enhancing drugs or aged worse than one of The Golden Girls.
It is certainly plausible that The Curse of A-Rod will live on and prosper until Rodriguez's contract mercifully expires at the conclusion of the 2017 campaign.

Nevertheless, barring a litany of major injuries, this Yankees squad will win in excess of 100 games and capture the American League East championship by the middle of September.
Renowned novelist Ernest Hemingway once wrote in his famous literary work The Old Man and the Sea, "Have faith in the Yankees, my son. Think of the great DiMaggio."
It has long been very easy to "have faith in the Yankees" during the regular season.
However, since 2001, it has not been quite as simple to "have faith in the Yankees" when they played baseball in October.
If the Yankees manage to win their 27th World Series this postseason and they are honored with a new plaque in Lower Manhattan's Canyon of Heroes, every ballplayer on the roster may steal a quote from the "great" Joe DiMaggio and "Thank the good Lord" for being a Yankee.
http://www.newyorkyankeesnews.com/colin815/weblog/7488/the-new-york-yankees-will-win-the.html