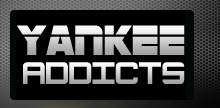 March 12, 2010 · Stephen Meyer · Jump to comments
Article Source: Bleacher Report - New York Yankees
Many baseball lifers point to center field as the immortalized position in Yankee history—and potentially in all of Major League Baseball. Any list headed by Joe DiMaggio and Mickey Mantle deserves such acclaim, but some may forget what is slipping in under the radar in a close second place.
The Yankees have celebrated a long lineage of world class backstops in their illustrious history. Thurman Munson, Yogi Berra, Elston Howard, Bill Dickey, and Jorge Posada have all squatted behind the plate donned in pinstripes, and each was one of the best handful of catchers in their respective generations.
If the strength of a team is truly built up the middle of the baseball diamond, New York has done this as well as anyone over the course of time.
Posada, however, is entering his 14th full season at the position, and has logged over 1500 games behind the plate. At 38 years old, he is one misstep or one compromised ligament away from forever relinquishing his role as Yankee catcher.
The search for "heir to the chest protector" has been ongoing, and until recent years, there was no competent candidate on the horizon. That all changed following a rejuvenation of the team's commitment to the MLB draft and international signings market.
Let's touch on the five youngsters who have the chance to become the next man behind the mask: