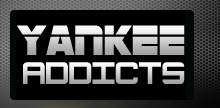 June 13, 2009 · Scott McGrath · Jump to comments
Article Source: Bleacher Report - New York Yankees
The Yankees started this season with extremely high hopes after making blockbuster deals in signing Nick Swisher, Mark Teixeira, A.J. Burnett, and C.C. Sabathia. The team would also have a healthy Chien-Ming Wang, a more experienced Joba Chamberlain, a better set bullpen, and returning studs such as Derek Jeter and Alex Rodriguez.
However, this season has been more of the same for the Yankees. After starting slowly, the team heated up to take first place of the AL East.
But, then, the titled inconsistency begins to show. The team is 0-8 this season against the Red Sox, which is certainly not helping them in their chase to win the AL East. Their offense seems to fall apart in big situations, and their pitching looks uncontrollable from the starters to even closer Mariano Rivera.
Things are looking bright for the Yankees, but they are not on the road to a World Series yet, not even close. The return of A-Rod to the line-up has jolted Mark Teixeira, but made the rest of the lineup fairly stagnant.
Costly defensive errors and base-running missteps are costing the Yankees game in and game out. But, one of the biggest problems this season has been starting pitcher Chien-Ming Wang.
Wang came into the season hoping to continue his winning ways after injuring his leg running the bases in an inter-league game during an absolutely stellar season.
The season hasn't exactly been ideal for Wang. Well, again, "not even close." He had the worst ERA in MLB history through five starts at slightly over 20.
Wang can be a great pitcher, but he seems to have lost some of his control, especially on his well-known sinker. It'd be great to see Wang back pitching like he used to, recording a 54-20 record prior to this season, but aside from his two decent outings from the bullpen, there is nothing to give anyone that kind of hope.
Because of his past, Wang deserves at least another three to four starts before something is done to the rotation.
The season's lack of stability can obviously not all be put onto Wang's shoulders. Each player on the Yankees must improve. AJ Burnett has struggled lately, and even CC Sabathia has been roughed up.
There are bright spots in the offense as Derek Jeter, Jorge Posada, Robinson Cano, and Melky Cabrera have all looked very good lately, but Derek Jeter is the only player on the team hitting over .300 as of right now, and he is right at .300. Pretty disappointing.
However, until that something is chosen to be done, the Yankees have to hope their offense can more consistently produce and their pitchers will not give up any more huge blow outs. Either that or find themselves some more Luis Castillos.
This article was originally featured on http://thesportsage.blogspot.com/ .