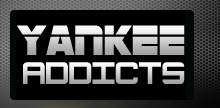 June 4, 2009 · Dan Dummeyer · Jump to comments
Article Source: Bleacher Report - New York Yankees
Today the Yankees will send Chien-Ming Wang, a winless pitcher with a 16.07 ERA and without a start in nearly three months, to the mound against the high-octane Texas Rangers lineup.
This move, returning the franchise's former de facto ace to a starting role, prompted team brass to bump their current ace back a day in the rotation (a convenient plus that will split up their southpaw starters) and move a young man once considered the top prospect in professional baseball, Phil Hughes, from the rotation to the bullpen.
This set of decisions sends a loud and clear pronouncement to the Yankee Nation: Mr.'s Cashman and Girardi at least think they have the best problem in baseball—starting pitching excess.
In the seven starts Phil Hughes has made for the Yanks so far this year, he has posted a 3-2 record with a 5.45 ERA.
Taken on the whole these numbers reflect a pedestrian back of the rotation pitcher at best, but in spite of one dismal performance straddled by a pair of unimpressive starts Hughes has also shown why his stuff has been raising the eyebrows of scouts and hopes of Yankees insiders for several years.
There has never been much credible doubt that his lively fastball, dazzling knuckle-curve, and increasingly effective cut fastball have the potential to add up to the arsenal of a legitimate MLB ace.
But especially over his last three starts, Phil Hughes has shown maturity and composure that were seemingly lacking in his winless 2008 campaign.
This improvement surely did not go unnoticed by Yankee management yesterday, but two credited victories with a 3.50 ERA and a marvelous 21:3 strikeout to walk ratio over those starts was not enough to keep a developing pitcher who has clearly outgrown AAA competition in the rotation.
Or at least it was not enough to keep the winless guy with the 16.05 ERA waiting.
The Yankees are moving Chien-Ming Wang back to the rotation because they are confident he will put up more quality innings from the spot than their alternative options. Despite his horrific start to this season Wang is a proven commodity.
He had been dubbed the Yankees de facto ace before the offseason arrival of CC Sabathia and A.J. Burnett because he had effectively won 19 games in consecutive seasons in 2006 and 2007 and his performance last year was on a similar (slightly diminished) pace before his campaign was derailed by injury.
Since his performance bumped him from the starting rotation Wang has shown that the one pitch that made him so effective from 2006 through the first half of 2008 is back and under control.
In his last two relief appearances Wang's sinker (a pitch he seems to choose 90 percent of the time) has been consistently hitting its low target at 91-94 mph with all of the downward movement that had constrained contact to groundballs.
With this pitch, Cashman and Girardi have no reason to think that Wang will not be able to return to averaging six-plus innings per start and a sub 4.00 ERA that will give the team a strong chance to win once every five days without much worry about the stress he could leave on the bullpen.
However important it may be to get Wang back in the rotation, there is certain to be plenty of speculation regarding who should have been moved to make the room. By electing to make Hughes the victim of these circumstances the Yankees have made it clear that they remain confident also in their plans to keep Joba Chamberlain as a starter despite the loud complaints of plenty of fans and outside analysts.
Chamberlain, like Hughes, has shown that he is still developing his efficiency as a starter while offering glimpses at the greatness his 'stuff' might yield over long-term starting duties. But, though the differences are small, Joba has plainly been better.
He is averaging almost a full inning of work per start more than Hughes, his ERA is 1.74 runs per 9 innings better, and his strikeout to walk ratio is only 0.18 weaker.
Perhaps most relevant though (especially as a Yankee farm product), Joba is a year ahead of Hughes in the Yankee development program that restricts the number of innings a young pitcher can throw for the sake of long-term value.
The bottom line here is that I hope that Girardi and Cashman are right. I hope that Chamberlain winds up being a reliable starter because starters throw more innings and have a greater effect on wins than does any non-closing reliever.
I hope that Hughes is able to contribute from the bullpen while continuing to develop the guts it takes to face the best hitters in the world, lose, and then rebound to win more often than most (like the typical front end starter he is supposed to one day be).
And right now, I hope more than anything that Chien-Ming Wang is really ready to return to his old role and efficacy.
If not, or if Andy Pettitte doesn't have enough in the tank for a full season, or if A.J. Burnett realizes he doesn't have to play for a contract for a few years, or if Joba doesn't figure out how to consistently pitch efficiently, at least the Yankees can know they have reasonable starting rotation options right now.
The headaches that go along with that are just gravy.