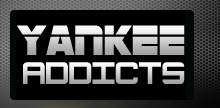 May 9, 2009 · Mike Nagle · Jump to comments
Article Source: Bleacher Report - New York Yankees
As May 1 is now in the rear-view mirror, it is time to do what all Yankees fans (not to mention temperamental owners and executives) are inclined to do—panic!
And why not, really? It seemed that many people were willing to junk the new Stadium after the first home stretch. The balls were flying over the right field wall with alarming frequency.
Perhaps more alarming was that the Yankees didn't seem to be benefiting from that as often as the Cleveland Indians (who outscored them 30-17 in a three-game series, including one game where the Tribe scored 22 runs in a single game).
I couldn't help but wonder if George Steinbrenner (circa 1978) was evaluating his club, and how he might react. Keep in mind this is the Steinbrenner that routinely trashed his players in the media and had three managers in one season—NOT the weepy and sentimental George from 1999.
So in the spirit of "Classic" George and junking anything in the Bronx, let's hang on to the stadium for now and explore what else we can chuck overboard…
Looking over the Opening Day roster, let's start at the top with the manager:
Joe Girardi is now in his second season as skipper, and he's looking more like they plucked someone out of the stands to give it a shot.
Girardi earned a rep in Florida as a hit-and-run, base-stealing, hustling manager. This roster doesn't lend itself to that style of play, especially since Girardi's choice of catalyst (rookie centerfielder Brett Gardner) has barely batted his weight, and as of this past weekend had barely mustered three extra-base hits.
Going 0-5 against Boston would have been enough for Steinbrenner to can any of his skippers. And if George was running the show, I'm pretty sure he'd have called the Dodgers already and tried to arrange a trade to bring Joe Torre back!
Can you imagine the headlines? The Stadium would sell out for the rest of May (even that these inflated prices). Girardi goes and takes his coaching staff with him—EVERY one of them except Tony Pena (who may very well get the big gig before the season is over).
George would ship Phil Hughes to Los Angeles for Saint Joe, and Mel Stottlemyre would be back too. Girardi gets an F (a D if I'm being charitable).
Jorge Posada looked great for about three weeks, but he reminds me of my car. I still love that the breaks work but I try to park it with the rusty side pointed in, NOT out.
Nonetheless, Posada deserved the big contract as a "thank you" for the years of service. He'll probably coach for the Yankees after he's done (assuming he gets off the DL). Jorge gets a C+
Robinson Cano is coming back after being unloved and trade bait. His cavalier play almost made him the second coming of Alfonso Soriano (a k a "short term player" in the Bronx).
He's come out like gangbusters throughout April but seems to be slowing up in the past week. He's still batting three and a quarter, though, so let's give Cano a B+.
Alex Rodriguez is the perennial Steinbrenner-type of player. When he hits one, he hits it all the way.
Even off the field A-Rod is fun to watch in a train wreck sort of way. He has strippers, steroids, surgery, Madonna, man-boobs, divorces…he's a one-man Bronx Zoo of the highest order.
As of Saturday morning he'd played only one, game but homered on the first pitch he saw. THAT is a George Steinbrenner "instant gratification" Yankee. While incomplete, for today A-Rod gets an A, but if he goes oh-fer tonight that's a D-.
Derek Jeter is looking slower out of the box this season and he's either feeling his age OR he's showing the kinks in skipper Girardi's system. Because of his status, no one has jumped on the Captain for lack of hustle but someone should.
His average is well below .300, and his range in the field is beginning to look sluggish too. With a third baseman coming back from hip surgery, that can leave a big hole on the left side of the infield (BAD news for a team that spent a boatload of cash on a left-handed starter this offseason).
Jeter gets a C+ (and yes, we DO hold him to a different standard, so deal with it).
Hideki Matsui has been streaky since joining the Yanks. He may not be the iron man who first joined the roster, but Godzilla knows how to hit. The DH role is fine for him until he can play the field again (assuming that ever happens).
In the interim, he's batted .286 and even when he's slumping, he seldom looks overmatched. Matsui deserves to win with a better Yankees team than the ones he's played on. He gets a B-.
Johnny Damon was probably signed more to hurt the Red Sox than to help the Yankees. True to form, they overpaid him and signed him for one year longer than they wish they had.
Despite that, Damon plays hard every day and seems to be the only one NOT subscribing to the theory that his career is on the downside. He's got seven homers and is batting above .300. He may not have much of a throwing arm but he's made the conversion to left field without as much as a single whimper. He's a team player with a great attitude and we'll give Damon an A-.
Brett Gardner could develop into a great throwback ballplayer who brings hustle and grit to the game. Whether or not that evolution takes place in the Bronx—or the majors—is yet to be determined.
He doesn't look overmatched as much as he seems not to believe that this is real yet. He needs to wake up and recognize that it is, or else it is back to the bus rides. George would have already pantsed him and sent him packing. Gardner gets a D.
What was once an overcrowded outfield has become a barren wasteland—or the land of opportunity, if your name is Melky Cabrera. I won't pretend to say, "I told you so" because if I had it my way, Cabrera would have been traded two seasons ago when he had some value.
He's played all over the outfield and is running the bases with abandon while batting above .340! He's playing the field like a gold glove candidate too. Melky gets an A+.
Chien-Ming Wang is on the DL, and though the Yanks claim he is injured, the only thing that may be hurt are Wang's feelings. He's been a nightmare on the mound, and looks nothing like the guy who dominated during his first few seasons.
He needs some AAA or AA starts to get his mojo working, or his next stop in New York may be pitching for the Long Island Ducks. Wang gets an D- and only dodges an F because he's returning from an injury.
Nick Swisher was supposedly the odd man out after Mark Teixeira was signed. The NY media acted as if Brian Cashman had squandered one of the Earth's natural resources when he managed to pick up Swish for Wilson Betemit.
Perspective is a wonderful thing, especially when Xavier Nady crumbled, paving the way for the chatty Swisher to play every day. He stepped in for Teixeira during the first two weeks when the free agent had arm problems, and he's even pitched.
His BA could move up, but he's tied for the team lead with seven homers with his wingman Damon, and he may even be responsible in some way for Damon's resurgence. He's also fun to watch, and seems almost to be having as much fun playing the game as kids do. Who wants that? Swisher gets a B+.
Mark Teixeira seemed to be trying to temper everyone's expectations by spending all of spring training pointing out what a slow starter he is. Yankee fans were used to that with Bernie Williams, and Don Mattingly, too, but when a big gun signs as a free agent, we expect more and we expect it instantly.
The Boss would already have said, "Our first baseman needs to wake up." George would have been right. Lucky for Teixeira, he's reminding Yankee fans what it's like to have a glove, or even a field general at first base. He runs the infield efficiently, and is easily the most talented at the position since Mattingly (all apologies to Tino and none whatsoever to Giambi). Even still, he gets a C.
C.C. Sabathia hasn't exactly received the support that he was hoping for since coming over—but then again, he hasn't exactly pitched like Cy Young. He looks as though he warms up in the new food court and appears to be wearing two of David Wells' uniforms sewn together.
Someone needs to have a come-to-Jenny-Craig chat with C.C. and remind him that conditioning could be a good thing for a pro athlete. He looked most dominant pitching against the Orioles last week, but he was brought in to dominate big league clubs (sarcasm noted). We'll give C.C. a third C.
Andy Pettite is what the Yankees paid for – a veteran lefty who know how to pitch. His ERA isn't going to floor anyone, but he's also logged the second-highest number of innings pitched in the rotation.
That ain't bad for an old-timer. Too bad he spent a few years in Houston, or else the Yankees might have had at least one more flag hanging in the Bronx. Andy gets a B.
A.J. Burnett looks to be exactly what the Yankees expected. He's looked in charge on the mound—savvy, even. So much for those concerns about how he'd handle the NYC spotlight.
He's not unhittable, but he's resourceful. Even when runners get on, A.J. isn't afraid to challenge the next guy up to hit something and get a DP when needed. His ERA could be lower, but he was one of the only starters to bring some composure to the mound during a bleak April.
Phil Hughes would have been skinned and sold for parts if George Steinbrenner was in classic form. Instead, he lived to tell and also to fight another day.
Since joining the Yankees in '09 Hughes has looked promising in that he's not getting shelled. His ERA is a pleasant 2.70, albeit only after two games, but compared to Wang's 34.50 ERA, perhaps I'm willing to lower my expectations. Let's give Phil a B simply for being here.
Mariano Rivera has pitched almost three times the innings that Wang has, and he's not looking sharp at all. No one in the stands or the front office wants to admit it, but the truth is that Mariano isn't an automatic thus far.
It doesn't help that his set-up men have been a rotation of suspects who alternate between unhittable and unthinkable. That diminishes Rivera's pull when he enters in the ninth. Even still, no excuses for Mo. He hasn't done the job well and gets a D.
Jose Veras' ERA is above 7.00, and the 12 earned runs in 15 innings are discouraging. If this doesn't improve he may end up warming up in Kansas City wearing a white jersey and not a grey one with NEW YORK printed on it. Veras gets a D-.
Edwar Ramirez can be hit and miss, but he's looked more dependable than Veras or Damaso Marte. Edwar gets a B-.
Jonathan Albaladejo has been inconsistent out of the pen, but he's shown some endurance and equally some rough and tumble. It is encouraging to see a pitcher who even after getting hit doesn't look to be waiting for the rain to start. He could absorb a great mental approach from Rivera if he sticks in the Bronx and in the pen.
Damaso Marte may be the next resource looking for a bailout. We need a lefty who can pitch in spots and get lefties out. Oddly enough, Marte occasionally looks tougher on righties. In fairness, Girardi hasn't used him effectively, either. Still, the injured Marte gets a D.
Joba Chamberlain belongs in the bullpen. Mariano Rivera's armor is beginning to get rusted, tarnished, and dinged. Joba was brutal when he was in the 'pen, and filled the stadium with electricity anytime he warmed up.
Now all of a sudden he's the second coming of Forrest Gump's box of chocolates (as in, "You never know whut yer gonna git"). This run with Joba in the rotation needs to come to an end before his confidence AND his arm are wrecked. Just as important is that it should come to an end before Rivera comes to an end. In the bullpen, he could bring another championship to the Bronx.
Maybe it was a high school coach or someone on an airplane somewhere who convinced Joba Chamberlain that the starting rotation is where it's at. Whoever it was, let's locate the person and burn them at the stake.
Coming out of the bullpen, Chamberlain looked legendary. In the rotation, he looks average. He's allowed 43 runners (between hits and walks) in fewer than 30 innings pitched, but throws in a strikeout per inning too. Remarkably, that hasn't manifested itself into an ERA higher than he has (3.77).
Girardi needs to abandon having Joba start and bank on Sabathia, Burnett, Pettite, and Hughes as a four-man rotation. Chamberlain could be the next Mo as opposed to the next schmoe. He gets a C+.
A couple of pleasant surprises include Ramiro Pena, who subbed for A-Rod. When Rodriguez becomes a full-time DH, Pena could be a capable third baseman. Assuming the Yankees don't shift him to short and begin giving Jeter shifts in left field in 2010, Pena could find himself a man without a country, which would be unfortunate. Pena gets a B.
Catching in the Bronx has been an adventure. With Posada and now Molina on the DL, Francisco Cervelli is getting a drink of water in the bigs—or will it be more? Cervelli has only caught two games, but he looks in control and could see a lot more action thanks to the mileage on the rest of the candidates.
That might be a good thing. Cervelli gets an incomplete. Phil Coke looks comfortable and once Brian Bruney comes back, these two (who look like throwback guys from the 1940s) could make for a formidable relief combo). Coke and Bruney both get Bs.
The last guy who isn't on the roster who requires some scrutiny is GM Brian Cashman. While Cash seems to know all the right things to say, and is often credited with bringing some stability to the organization, he is equally over-credited for championship teams that had more of Gene Michael's and Bob Watson's fingerprints on them than his own.
Billy Joel once said that, "Sooner or later it comes down to fate" and Cashman's fate is to return the pennant to the new stadium or step aside so that someone else can. It has been almost a decade since the Yankees got new rings, and as Derek Jeter likes to point out, that means they've failed.
Cashman gets an A for dealing for guys like Swisher, but it comes down to the results in October of the entire club—maybe it is time for someone new to step in and shake things up. Cashman and Girardi are a package deal, and both should take the hit if things don't improve soon.
George Steinbrenner would remind Cashman that Theo Epstein has eaten his lunch consistently. George might even try wooing Theo away from Boston. Assuming Torre might not be gettable, its' time for Willie Randolph to become the first African-American to helm the Yankees.
Once those moves are done, Joba goes back to the pen and gets mentored for a season or two by Mo. Maybe we get another season out of Pettite. Next year we begin training Jeter how to NOT be the everyday shortstop. Damon leaves via free agency. DH combo is Posada (who catches part-time with Cervelli) and Matsui for possibly two more seasons, assuming neither of them loses power or suffers long-term injuries.
Projected starting lineup for 2010 could b:
1- Jeter (ss)
2- Cabrera (cf)
3- Teixeira (1b)
4- Rodriguez (3b)
5- Swisher (rf)
6- Posada/Matsui (dh)
7- Nady (lf) [or re-sign Damon for less money and let Nady go]
8- Cano (2b)
9- Cervelli (c)
The new stadium looks great from the outside—now its' time to pretty up what's on the grass, too.