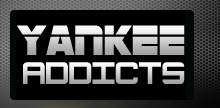 October 23, 2010 · Ryan Lazo · Jump to comments
Article Source: Bleacher Report - New York Yankees
There will much discussion in the coming days concerning the New York Yankees' failing to reach their mission statement of defending their World Series title.
Their mission was no secret; it was even on their manager's back. Title No. 28. If the Yankees had obtained the World Series victory, then and only then would their season have been considered a success.
Unfortunately for the Yankees, their season is now deemed a failure.
But this should not be the thinking.
The New York Yankees started their season on a hot streak like no other. They blew by teams through the entire month of April, mainly without the contributions of Mark Teixiera and Alex Rodriguez. Even Curtis Granderson was a no-show until the month of August.
This all fed into the belief that this Yankees team was head and shoulders above the competition, which was not the case. Last season, the Yankees were driven by the strength of their pitching staff, while having the resiliency to come from behind and win games behind their offense.
This season, there were not many of those dramatic wins. There was no sense of destiny for these Bombers. On most days, they just resembled the Yankees teams from the early part of this decade: old.
Their captain, Derek Jeter, had a season that showed his age. There is no telling what Jeter will contribute next year, but the Yankees are hoping a man of his great pride will perform to his previous levels.
Jorge Posada cannot be an every day catcher anymore. If people did not see this before the playoffs started, then now, after its completion, they must agree. The Yankees paid for Posada's horrible defense and throwing arm as teams consistently stole bases off Yankees pitching.
A.J. Burnett pitched some clutch games last season, but this year, he reverted back to his head-case form. The good news for the Yankees is no matter how much he tries, he cannot be worse than he was this season.
Even Alex Rodriguez, the reason they won the championship last season, suffered a drop in production. Two times this season, Rodriguez went through droughts of over 100 at-bats without connecting for a home run. Yet, he was still able to drive in over 100 RBIs, for a bit of good news.
Javier Vazquez, a pitcher the Yankees expected big contributions out of this season, gave them nothing. He proved once again that he cannot pitch in the pressure cooker of N.Y.
With everything that surrounded these Yankees, it is actually a testament to their fortitude as players in going as far as they did. They could have just laid down on many occasions throughout their end-of-season funk, but they instead insisted they would turn it on when needed.
To their credit, against the Twins, they did everything they needed to in order to win. A tidy three-game sweep over the Twins set them up for a date with the Texas Rangers in the American League Championship Series.
It was there that the Yankees met their match. The stories coming into the series concerned Cliff Lee and how he could dominate the Yankees. Turns out the Yankees shouldn't have worried so much about him but, instead, the Rangers team as a whole.
The Rangers outplayed them in every facet of the game. They out-pitched them, out-hit them and you can even say out-managed them. The Rangers are younger, more athletic, more potent and have better pitching due to new team president Nolan Ryan.
Ryan made the Rangers staff in his image. He does not believe in pitch counts, and for this reason, the Rangers staff was stronger than the Yankees at this point of the season.
The Yankees season is not a failure by any stroke of the imagination. You cannot buy championships as people routinely complain the Yankees try to do. No, what they instead try to do is make the best team because they have an owner willing to spend the money.
You can bet the Yankees will be big players in free agency this offseason in an effort to get younger and more athletic to close the gap between them and the Rangers and Rays. Their owner would not have it any other way.
It's unfortunate the Yankees lost, but they lost to the better team in every facet of the game.
Read more New York Yankees news on BleacherReport.com