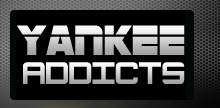 May 20, 2009 · Blaine Spence · Jump to comments
Article Source: Bleacher Report - New York Yankees
While reading a recent Bleacher Report article, "Oops! The New York Yankees Forgot to Bolster Their Bullpen" by Travis Miller, I couldn't help but recall the Yankees' last four World Series titles in 1996, 1998, 1999, and 2000.
---
It is easy remember the heroics of Scot Brosius, Chad Curtis, Jim Leyritz and Derek Jeter. Who can forget the pitching of David Cone, "El Duque", Roger Clemens and Andy Pettitte? Do you remember the bullpen?
Born in Australia, the 6'7" Graeme Lloyd pitched for the Yankees from 1996-1998. Used primarily against left-handed batters, he allowed only two hits, and never allowed a single run in postseason play.
Although John Wetteland was awarded series MVP in 1996 against the Atlanta Braves, it was Lloyd that got some of the biggest outs against the likes of Fred McGriff and Ryan Klesko.
Lloyd's career year in 1998, when he posted an ERA of 1.67, proved to be his undoing with the Yankees. The Toronto Blue Jays demanded that Lloyd be included in a trade with David Wells for Roger Clemens.
Lloyd now resides in his native country of Australia where he most recently served as bullpen coach for the Australian World Baseball Classic team. Lloyd also won a silver medal, playing for Australia in the 2004 Olympic Games in Athens.
Some of you might remember Lloyd's MLB commercial that showcased baseball's flavor by using players from around the globe singing "Take Me Out to the Ballgame." Lloyd's part was, "root-root-root for the home team." I am sure Major League Baseball didn't realize that "root" is Australian for…well, let's just say procreation.
As opposed to Lloyd, Jeff Nelson was more effective against right-handed batters. He used a three-quarters sidearm delivery for his nasty slider and his cut 90 mph fastball.
Nellie, as he was affectionately called, served two stints with the Yankees: from 1996-2000, and again in 2003. His best pitching may have been against the Padres in the 1998 World Series. He pitched in three of the four games and finished with an ERA of 0.00, striking out former Yankees hero, Jim Leyritz in Game One.
Nelson also posted a perfect ERA from 1996-2000 in Division play, as well as the 1998 and 1999 World Series.
Can you imagine how Baltimore's Armando Benitez must have felt in that brawl in 1998 when he drilled Tino Martinez? First, he took a shot from Graeme Lloyd, then he had to fend off Darryl Strawberry, and then here comes the 6'8'' 235 pound Nelson charging in from the bench!
Usually, entrance songs are reserved for the closer. However, Mike Stanton was no ordinary set up man. Stanton entered games to the guitar riffs of Aldo Nova's "Fantasy" or to the equally hard driving "Enter Sandman" by Metallica.
The latter was used in save situations and is an overt symbol of respect to his former teammate, Mariano Rivera, who he set up during the World Series years.
Stanton's philosophy is not complex:
"It's a pretty simple game. You make good pitches, you get people out. If you don't, you get hit."
The left-handed specialist hurled for the Yankees from 1997-2002 and again in 2005. In the three divisional series the Yanks played in from 1997-2001, Stanton allowed only one run in 10 innings of work. He also picked up two wins along the way.
Although Stanton did get hit on occasion, most notably the 2001 ALCS, he usually came up big when the pressure was on. He faced 13 batters in the 1998 ALCS, allowing only two hits, no runs, and striking out four.
In the 2000 World Series, Stanton picked up two wins. He was perfect again, facing 13 batters; he struck out seven and did not allow a single hit or run.
Stanton is second all time in appearances for major league pitchers (1178). Only rubber-armed Jesse Orosco has more (1250).
Like Nelson and Stanton, Ramiro Mendoza also served two tours of duty with New York (1996-2002, 2005). Interestingly, the Panamanian-born Mendoza is the only player in the last 75 years to win a World Series ring with both the New York Yankees (1998–2000) and the Boston Red Sox (2004).
In the 1998 ALCS against Cleveland, Mendoza faced 17 batters over 4.1 innings. He yielded only four hits and allowed not a single Indian to score.
Although Mendoza gave up one run in game three of the World Series that year against the Padres, he managed to pitch well enough to pick up David Cone, who had gone five scoreless innings before running into trouble in the sixth, while earning Mendoza a World Series win.
The following year in the ALCS, Mendoza was equally effective against the Red Sox, posting an ERA of 0.00, while earning a save in Game Five.
The Yankees World Series victory in 1996 was their first championship in 18 years. Not coincidentally, it was a career year for John Wetteland.
Wetteland saved an American League-high 43 games that year for the Yankees. He was also selected to the MLB All-Star Game and was named the coveted "Rolaids Relief Man."
Wetteland saved all four of the Yankees win in that World Series against the Braves, earning him World Series MVP. He made it interesting in Game Four, however.
Staked to a slim two run lead, Wetteland started off the top of the ninth by striking out Andruw Jones. He then gave up consecutive singles to Ryan Klesko and Terry Pendleton, before striking out Luis Polonia swinging.
With the Braves down to their last World Series hope, leadoff man Marquis Grissom delivered a ball into right field that drove in Klesko to score.
Rafael Belliard, pinch running for Pendleton, was now in scoring position at second base. Wetteland then induced Mark Lemke into a harmless pop fly that third baseman Charlie Hayes caught for out No. 3, postseason save No. 7 for Wetteland that year, and World Series No. 23 for the world's most storied professional franchise.
Wetteland was famous for his "lucky" cap. He wore it for the entire 1996 season, even foregoing the new caps that were designed with logos for the World Series—he had the logo sewn on to his sweat and dirt stained hat.
When the Hall of Fame asked for it, he politely declined as he had promised it to one of the neighborhood kids, a ritual he repeated for every season of his big league career.
With the emergence of Mariano Rivera, the Yankees declined to re-sign Wetteland and he signed with the Texas Rangers the following year (1997), where he played out his career.
Wetteland is now the bullpen coach for the Seattle Mariners.
The only remaining link to those great bullpens is Mariano Rivera. Like Mendoza, Rivera is a native of Panama. Also like Mendoza, "Mo" joined the Yankees' bullpen full-time in 1996 after an unsuccessful rookie campaign as a starter in '95.
Rivera's brilliant postseason play has been well documented. His achievements throughout his career are too numerous to list here.
However, it just might be that one of Rivera's few early career failures is what made him the pitcher that he has become.
Rivera blew a save in Game Four against the Cleveland Indians in the 1997 ALCS. With only four outs standing in the Yankees' way, Sandy Alomar Jr.'s blast off of Rivera tied the game.
The Indians went on to the win that contest and eventually eliminated the Yankees—denying them a shot at a World Series repeat.
Many young pitchers may not have been able to come back from such a devastating failure.
So dismayed were the Yankees that they reportedly offered to include Rivera in a trade to the Seattle Mariners for Randy Johnson. Lucky for the Yankees, the Mariners turned them down.
Accolades aside, Rivera is more than just a phenomenal pitcher. This is what Joe Torre had to say about him:
"He's the best I've ever been around. Not only the ability to pitch and perform under pressure, but the calm he puts over the clubhouse. He's very important for us because he's a special person."
A lot of people point to Jim Leyritz's home run against the Braves in Game Three of the 1996 World Series as the turning point for the Yankees' fortunes.
I say if it wasn't for the shut-down pitching of Mariano Rivera, Graeme Lloyd, and John Wetteland, Leyritz's homer would have been a moot point in Yankee lore.
Yes, the Yankees bullpen has been struggling this year, but I leave you with these words of wisdom from Mike Stanton:
"There has never been a bullpen—never been a pitcher—that has gone through a season and not struggled at some point. The sign of a good reliever is to be able to put that behind you and move forward."