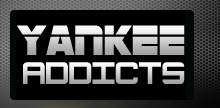 May 1, 2009 · Heartbeat Of The Bronx · Jump to comments
Article Source: Bleacher Report - New York Yankees
Inspired by Rob Abruzzese's article:
MVP of the Month:
Derek Jeter—There are hitters on the Yankees roster with better stats and flashier personas, but Jeter continues to quietly dominate outside of a box score. He has already produced more clutch hits than anyone not named Melky Cabrera, and has silenced critics of his perceived offensive decline.
Pitcher of the Month:
Andy Pettitte—Seemingly left for dead after a horrid 2008 second half, Pettitte has been the Yankees stopper time and time again in 2009. Amidst serious bullpen concerns and struggles by the starting rotation, Pettitte has gone 2-1 with a 2.96 ERA. Pettitte's arm appears fresh and revitalized, and he could provide a huge lift in a division he historically dominates.
Hitter of the Month:
Nick Swisher—Swisher is possibly the team's MVP, biggest surprise, unsung hero, hitter of the month, and comeback player of the month all in one. Coming off of a season in which he hit just .219; Swisher generated 7 HR, 19 RBI, 15 BB, 21 R, and a .312 AVG. in the month of April. He has stabilized the Yankees right field situation after Nady's injury, as well as provided a much needed emotional spark on and off the field.
Rookie of the Month:
Mark Melancon—Melancon may have only arrived a week before the end of April, but he has already supplied New York with a secret weapon. He has worked himself out of a bases loaded jam in Fenway Park, and looked poised and electric in one inning of work in Detroit.
Melancon has helped to pull hands away from the bullpen panic button, and kept hopes alive for the rebirth of a reliever like Joba Chamberlain. He throws hard and more importantly, he throws with conviction. He has 3 IP, 1 H allowed, 2 K, 1 BB, and a .100 BAA.
Comeback Player of the Month:
Robinson Cano—My original selection for AL Comeback POY before the season's beginning, Cano has reemerged as the pure hitter once compared to Hall of Fame 2B Rod Carew. Cano ended April hitting a robust .366, with 5 HR and 16 RBI. His defense has rapidly improved to Gold Glove levels, and he has displayed a more developed eye for pitch selection.
Rolaids Relief Man of the Month:
Phil Coke—Normally an award reserved for Mariano Rivera, Coke has earned the right to call himself the Yankees reliever of the month. He struggled mightily in the early part of the month, but responded admirably when New York needed him most.
Following Brian Bruney's last pre-DL appearance on April 21, Coke has pitched 4.1 scoreless and hitless innings, lowering his ERA from 9.00 to 3.72. He picked up an important win on the final day of the month, and has limited the impact of Bruney's injury.
Biggest Surprise:
Melky Cabrera—Cabrera was not only left for dead, but also offered as trade bait to virtually every team in need of a center fielder. New York had decided that he was not at all a part of their future plans, and would prove to be insignificant upon Austin Jackson's arrival.
Brett Gardner's poor start, coupled with Xavier Nady's injury, reopened the door for Cabrera in a Yankee uniform. He responded with a .327 AVG, 4 HR, 9 RBI, 11 R, and two game-winning hits. His success may not be sustainable, but Cabrera has been unbelievable thus far.
Biggest Demise:
Chien-Ming Wang—How does a 54-20 career record quickly transform into an 0-3 record, 34.50 ERA, 4.83 WHIP, and .622 BAA? The Yankees are currently trying to figure that out, as last year's ace has been relegated to a Minor League "rehab program." Wang failed so miserably that New York had to invent an injury just to figure out what is wrong between his ears.
A recovery from last season's foot injury could be contributing to the problem, but it also appears that he has lost all confidence in himself. His power sinker has become as flat as people once believed Earth to be.
The "Luis Sojo" Unsung Hero Award:
Jose Molina– In honor of former Yankee Luis Sojo, this award is intended to shine light on a player often lost in the fray of a team filled with big names and even bigger contracts. Molina may not produce gaudy numbers, but he may be the best backup catcher in all of baseball. Hitting .276 with 1 HR and 5 RBI, he has actually been a better offensive contributor than anticipated.
Molina's defense, however, is what truly sets him apart. He was the league's best backstop in throwing out runners in 2008, and has already caught 50 percent of attempting thieves this season. His importance is elevated due to long-term concerns about Jorge Posada's surgically repaired throwing shoulder.
Honorable Mention: Jorge Posada's Right Arm—Speaking of Posada, his shoulder has responded very well to the extensive rehab he put in during the offseason. Often maligned across MLB, Posada's arm has thrown out 10 of 25 runners this year. He has added 3 HR, 14 RBI, .275 AVG, and .366 OBP; showing that he is still a premiere AL catcher.
Also seen at: http://heartbeatofthebronx.blogspot.com/