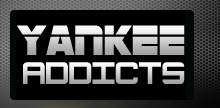 May 14, 2009 · richard thaler · Jump to comments
Article Source: Bleacher Report - New York Yankees
Have you heard that the new Yankee Stadium is extraordinarily visitor friendly? After scoring 22 runs yesterday, the Cleveland Indians certainly would agree! (Note: they were but inches away from 26 runs on a Travis Hafner fly ball to the wall in the 9th inning)
It has great amenities and should be a money maker for the Yankees. For all of the lucre it may generate, it is also possible that the stadium really has sacrificed a bit of the "home field advantage" that it once conveyed to the Bronx Bombers.
As Joel Sherman points out in the New York Post, this is not your Granddad's cacophonous House that Ruth Built:
• No more upper deck virtually hanging over the field. The upper deck is now set back and is much less directly above the action
• Bleachers and their fanatic fans are much further from the field and much less of an annoyance to visiting outfielders
• Field level pricing that would make Marie Antoinette blush! At $1,000 + per seat, one now finds soft spoken plutocrats, a few mild mannered expense account recipients and a lot of empty seats (as was the case yesterday in the Indians blowout).
You can be sure that Carl Pavano was a happy Indian that the down close seats no longer felt like the seats held by "the Mob" at the Roman Coliseum. In any case, he sure was not fed to the lions like Yankee fans in the far away seats had hoped.
Reducing the crowd effect at Yankee Stadium will undoubtedly reduce the home field advantage that the Yankees once enjoyed. Their hard core fans remain loud and lunatic. They are just far away from the field of play and in a lesser position to intimidate opponents.
Fortunately for visitors, including those few in the expensive seats and on the field, the place is a lot more visitor friendly!
http://www.nypost.com/seven/04172009/sports/yankees/bronx_cheer_for_this_quiet_new_ballpark_164874.htm