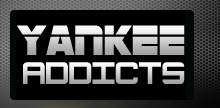 June 6, 2009 · Heartbeat Of The Bronx · Jump to comments
Article Source: Bleacher Report - New York Yankees
A baby-faced ball of energy burst onto the Bronx scene in 2006, capturing the hearts of fans eager to find the next homegrown hero.
The player was Yankees CF Melky Cabrera, asked to fill a defensive hole left by an oft-injured and rapidly aging Johnny Damon. An awkward shot-put release was replaced by an intimidating laser arm, and Cabrera completely changed the way opposing teams ran the bases.
In just 247 games at CF during his time, Cabrera generated an impressive 26 outfield assists. He nearly saved as many runs as he was originally expected to drive in at home plate.
The "Melk Man" love affair quickly eroded in 2008, however, as Cabrera instigated many more groans, boos, and expletives than magical moments. Defensive lapses, a .249 batting average, and an anemic .301 OBP eventually forced New York's hand.
At least four to five names were now surfacing as potential starting CFs in the Bronx, and Cabrera's name was no longer among them.
Speedy youngster Brett Gardner would likely replace him coming out of spring training, and any GM with access to technology could begin courting his services. Trade proposals subsequently began to flow into Brian Cashman's cell phone, and one in particular piqued his interest.
The Milwaukee Brewers were on the line, offering 36 year old CF Mike Cameron in exchange for the suddenly lactose intolerant "Melk Man."
Some fans entertained images of the once Gold Glove caliber defense Cameron played in the past, while others accepted the reality of his age, career .250 AVG, and astronomical strikeout totals.
After a period of flirting and counter-offers regarding the portion of Cameron's contract that New York would be obligated to pay, the trade interest eventually dissolved.
The Yankees have discovered that not trading away Cabrera may have been the smartest move they made all offseason.
While the calendar only reads June 6, Cabrera has already provided three walk-off hits to go along with a go-ahead two-run home run in the eighth inning of Thursday's game.
Cabrera has resurrected his career and the "fan favorite" nature of his play, currently supplying stellar outfield defense while hitting .311 with a .360 OBP.
He helped to stabilize a Yankees lineup without Alex Rodriguez, Xavier Nady, or Jorge Posada, and has clearly risen to the occasion during clutch scenarios.
Cabrera has also performed at the highest of levels against New York's toughest opponents, hitting 16-for-41 (.390) against the Red Sox, Angels, and Phillies.
Cameron, meanwhile, has failed miserably with runners in scoring position—hitting just 6-for-40 (.150) with two extra base hits. Though his overall AVG and OBP are far above his career averages, he is making seven times the salary of Cabrera in 2009.
The Yankees already have a bevy of overpriced and aging outfielders with limited range (Damon, Matsui), and yet another would have prevented the athleticism of Cabrera and Gardner to be implemented.
It would have been especially debilitating as a result of Cameron's propensity to kill rallies by not making contact.
Cameron is currently on pace for 143 strikeouts, which also destroys any ability for manager Joe Girardi to use the hit and run when he is at the plate.
In contrast, the "Melk Man" is hitting over .300 from both sides of the plate, and is on pace for just 65 strikeouts—proving to be very reliable in the aggressive elements of Girardi's game plan.
Other offseason moves have come up roses, as C.C. Sabathia has begun to present himself as a true ace, and Mark Teixeira has been the unquestionable offensive MVP of the Yankees through June.
However, it may be maintaining Cabrera that has been as important an offseason move as any that Cashman made during the winter months.
It is a good thing most households in New York City are equipped with refrigerators, because the Melk Man continues to deliver—seemingly on a daily basis.
Also seen at: Heartbeat of the Bronx