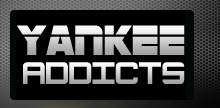 May 20, 2009 · JoeSportsFan · Jump to comments
Article Source: Bleacher Report - New York Yankees
For those of you who grew tired of Tony Kornheiser's act as Monday Night Football analyst, we received a special gift Monday upon hearing the news that the crotchetty one is out and Jon Gruden is in. With Tirico, Jaws and Gruden, watching MNF games might actually be entertaining, fun and insightful. What a novel concept!
The irony in the hire, as Deadspin points out, is that Gruden ripped ESPN just two years ago (then again, who hasn't?).
"I don't watch ESPN. I don't believe half the [expletive] people on the channel, personally – no disrespect. But if Bruce Gradkowski is throwing games in Toledo, how in the hell does he lead the NCAA in passing percentages? That is a crock. You know, these reports make me sick – really. I don't believe [there is] any truth to it, and I'll go to my grave believing that. I hope ESPN 3 or 4 has real sources behind this story, because it has nothing to do with the kid. He's a great kid. He wants to be great. This is very uncharacteristic, in my opinion, of 'professional' journalism."
In the end, the story was proved false—just another day at the office for the WorldWide Leader in Sports. Just as we began pondering how ESPN would monitor Gruden's facial expressions in the booth, the news came out that Jon apparently left the NFL Network out to dry.
SI.com reports that Gruden, who worked for the NFLN at the combine and draft, had verbally agreed to a deal to work for the NFLN and then join Bob Papa as its color analyst for its eight-game, late-season slate.
But Gruden, whom SI.com says was supposed to start at NFL Films this week, left for ESPN when Tony Kornheiser announced his departure. And SI.com reports Gruden did not inform NFLN chief Steve Bornstein he was heading to Bristol.
Jeff Garcia can empathize with you, NFL Network. So can Jeff Garcia's dad. By the way, ESPN responded to the whole Gruden tirade of 2007 with the following: "Ultimately that candid commentary actually provides the foundation for successful TV commentary. We might not always agree when a newsmaker takes a shot, it's about serving the fans and candid insight is important."
It's time for Foxsports.com to begin drug testing headline writers
Anyone who frequents this site realizes the consistent quality and humor of headlines produced by Foxsports.com. It's so consistent that they rarely appear in this column.
The rules get tossed out the window when people may be in danger. We speak of the health and well being of the Fox headline writers. Case in point, January 2009:
And then last week in response to Dirk Nowitzki's stalker, Cristal Taylor.
To be fair to the headliners, Jason Whitlock gave the idea of the title in his column about Taylor. Regardless, Joba Chamberlain's mother approves.
Seriously, Bill Simmons needs to stop it
JoeSportsFan Media Circus flashback: March 26, 2008
Imig and Bacott, long at odds over ESPN.com's Bill Simmons (with Imig not a fan and Bacott a staunch supporter based on his earlier work) come to a complete and total agreement that Simmons' campaign to become an NBA GM is the equivalent of The Media Circus lobbying for the position of Director of Programming at ESPN because we had some pointers on Stump the Schwab. Our take:
Hey, it probably would be fun to follow a team led by a fan GM. Sort of like the movie Little Big League. But when Simmons openly began using his post as the leading ESPN.com columnist to start begging for a job that everyone knows he'll never get it got real tiring real quick. This week's column officially took his personal fantasy to a new level, one that radiated egotism and placed him shoulder to shoulder with the long list of other sports media members who have an over-inflated opinion of their place in the sports world.
Simmons has apparently convinced himself that the only way that the Milwaukee Bucks franchise can generate any buzz is to involve him in the search for a GM.
Sure, Bill. Say hi to Berman and Lupica in fantasy land for us.
JSF Media Circus Fast Forward: May 20, 2009
Despite gaining absolutely no traction in his early campaign, Simmons is at it again, this time telling everyone who will listen that he is the best man to become the GM of Minnesota Timberwolves. And worst of all, believing it. From his interview with Slam Magazine:
Small market teams need to connect with their fans and keep hustling and figuring out ways to make headlines and drive local interest in their team. Who's better for that purpose than me? A sports columnist turned GM? Name me one move the TWolves could make this summer that would generate more local and national headlines than hiring me, short of scheduling sex orgies for fans after home games or something. You can't.
Well, Bill, we'd wager that if the Timberwolves traded Al Jefferson for Air Bud it would garner more headlines than hiring you and, truthfully, it has about the same probability of happening, so perhaps we should just move on, what do you say?
Wouldn't "Timberwolves hire ESPN.com sports columnist as GM" immediately become one of the most talked-about NBA stories of the year? How else would the T-Wolves ever lead PTI or get a cover of Sports Illustrated? It's just smart business. You are a floundering franchise that needs to get people talking … how do you do this? How do you connect with your fans? How do you make a splash? By hiring me.
Most of those people would love to see me succeed and turn the NBA upside down. You know what that means? More T-Wolves fans across the country. More people buying T-Wolves merchandise and hitting the website. More national attention. Etc etc etc. And what about the national media? What's a better during the season story than my first T-Wolves season, my first trade deadline, my first draft pick, my first trade and everything else? I would be the fountain of stories that keeps on giving. – Bill Simmons on Randball.com
Seriously, Simmons, enough already. It's one thing to jokingly say that you're a candidate for a GM job, or to quietly lobby behind the scenes for the job, but to go on yet another public campaign which essentially consists of bragging about how popular you are is exhausting.
And for every fan that pledges to go homeless so that they can buy a season ticket when you get hired there is undoubtedly two fans who have absolutely no freaking idea who you are and are still trying to figure out why the hiring of a sports writer as GM should convince them to pay more attention to the team than they did before.
For the sake of those who still want to enjoy your work, please don't make this an annual charade.
So what is Shaq up to now?
Having already explored the professions of rapping, acting and law enforcement, Shaquille O'Neal is apparently now trying out sports media as a potential after-basketball hobby.
The 7'1" center for the Phoenix Suns is taking a course at Syracuse University known as Sportscaster U, a crash course designed to teach athletes about the broadcasting industry. Instructor Dave Ryan, an ESPN play-by-play announcer who started the program, says O'Neal is spending the time taping mock stand-ups, scripting material, and conducting interviews. He even scored the first on-camera interview with former Duke point guard Greg Paulus, who last week announced his decision to play football for the Oranges this fall.
Truthfully, given all the extracurriculars that Shaq has gotten into in the past, this is neither shocking nor particularly notable. Just a guy having some fun trying to figure out what his next "career" might be.
What is funny though? The idea of Greg Paulus standing on 14 phone books so that he can be interviewed by Shaq, while Shaq is wearing full "Steel" gear.
Those Fun Loving Yanks are at it again
For roughly 28 Major League teams, three consecutive games with walkoff hits followed by the hero getting a pie in the face is the kind of thing that is a story only on the "bloopers" segment that closes out the 10:00 news. Mainly because we've seen it 100 times and no one really gives a shit anymore.
When the guys slinging the whipped cream around happen to be wearing pin stripes, it's a much bigger deal.
In case you hadn't heard, Melky, A-Rod and Johnny Damon got pies in the face after walk offs this past week thanks to those zany pranksters in the Yankees clubhouse.
The thrice repeated joke warranted a shade more analysis than one might expect.
We got your standard reporting of what happened from the USA Today:
"For his efforts, Damon gets to keep a replica championship wrestling belt, the toy that the Yankees are passing around to their game-winning heroes. Damon also got a plate of whip cream in his face during his post-game interview. Both are thanks to Burnett. Burnett is responsible for bringing the belt into the clubhouse. He also has a stash of whip cream in his locker, just for occasions such as Sunday.
Completely ridiculous analysis of how the act furthered demonstrated teammates acceptance of A-Rod courtesy of Bob Ley during his discussion on the topic with Peter Gammons:
On the post game it was the age-old pie in the face, which is really the ultimate sign that you're one of us.
And of course, how could we omit the critical review of whether the cliche "walk off homer" is worthy of a scene at Yankee Stadium as offered by Lesley Visser at CBS Sports:
Johnny Damon, after a home run giving the Yankees their third straight come-from-behind win over the Twins, gets a pie in the face and here's how it's portrayed.
A "walk-off home run."
Is there any more of a buzz kill? Should a face full of whipped cream and gleeful celebration be defined in terms of the losers?
If and when someone gets a pie in the face after a Yanks-Red Sox game, we might have a 30-minute Sportscenter special on it.
The Media Circus is written by Josh Bacott and Patrick Imig. They swear this stuff is real. Email them at info@joesportsfan.com.