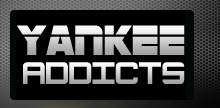 April 27, 2009 · Heartbeat Of The Bronx · Jump to comments
Article Source: Bleacher Report - New York Yankees
The Yankees had just suffered two of the more demoralizing defeats of their young season at the hands of the Boston Red Sox.
Making things worse was the fact that the losses mimicked the emotional and physical collapse of the 2004 ALCS. Worst of all, New York lost each game in a new and different manner.
Game one was supposed to display the ability of the Yankees lineup to grind out at-bats, forcing Jon Lester off the mound innings earlier than he had hoped.
It was supposed to be an uplifting and slightly ho-hum victory, setting the tone for the rest of the weekend.
Instead, even the most bulletproof member of the Yankees bullpen was not immune to a contagious disease debilitating the pitching staff arm-by-arm. Mariano Rivera was just one poorly thrown cutter away from handing over a win neither team ultimately deserved.
Although it didn't seem possible, game two managed to shake the Yankees' confidence even more so than a heartbreaking ninth-inning collapse.
New York's roster could live with Rivera having a bad day. They could keep telling themselves that it was a fluke loss, and they did everything in their power to earn a road victory.
Game two, however, had an entirely different dynamic. After building a 6-0 lead in the early innings off Yankees nemesis Josh Beckett, New York was well on their way to a convincing rebound.
A.J. Burnett was equally as potent a Red Sox killer in recent years, and the offense had shown every facet it lacked in going 4-for-19 with runners in scoring position the night before.
Eight runs later, Burnett was in the dugout asking for the license plate number of the truck that had just run over him. A Yankees comeback was thwarted after eight additional Sox runs, and nothing but embarrassment remained.
Game three was a whole different species of loss. It was a perfect example of the proverbial "throwing of salt onto an open wound." The symbolic "salt" was named Jacoby McCabe Ellsbury.
Already respected as one of the fastest players in all of Major League Baseball, Ellsbury always needs to be accounted for. Apparently, even the game's best pickoff artist, Andy Pettitte, underestimated his skill.
Ellsbury not only stole second base off Pettitte, but he later forced fans to reminisce about the 1955 World Series played between the Yankees and the Dodgers.



Realizing he was again going unnoticed, Ellsbury broke from third in an attempt to steal home off the crafty left-hander. He slid in safely, and subsequently put the final nail into an already buried Yankees coffin.
Though not as significant as Jackie Robinson's theft in the aforementioned 1955 Series, Ellsbury's feat was nearly as unsettling to New York. To this day, Yogi Berra still contends that he tagged Robinson in time.
Ellsbury's 10th steal of the season left the Yankees in a state of flux, completely unsure of what lies ahead of them. New York will have to do some serious soul-searching in attempt to right the ship, and may be forced to rely on Phil Hughes and Mark Melancon more heavily than anticipated.
When the Red Sox were done putting away their brooms, they had swept the Yankees right out of Fenway. Their 10-game winning streak has once again established themselves as the team to beat in the American League.
Joe Girardi will have to figure out a contingency plan quickly. If Alex Rodriguez is not the cure to what ails him, Tony Pena may be the one running out the team's scorecards by the All-Star Break.