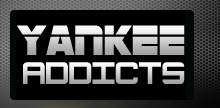 October 28, 2010 · Devon Teeple · Jump to comments
Article Source: Bleacher Report - New York Yankees
If you look at the Yankees' 2010 season with an objective lens, this team was lucky to get past the first round of the playoffs.
This so-called dynasty is far from it if you look closely at what they can lose and what is replacing it.
Jorge Posada is a 38-year-old catcher on his last legs. By the way, he makes nearly $13 million for 57 RBI.
According to rotoworld.com, Posada is set to make another $13 million in 2011. Obviously, I am not an expert on his contract and its intricacies, but if the Yankees do have an option to let him go, they should.
I am fully aware of what he did in the past. However, players get old and skills decline, leaving fans and so-called experts reluctantly ready to leave this former All-Star behind.
Posada, as we all know, has been one the greatest hitting catchers of all-time. His power is not quite up to par with Mike Piazza, Yogi Berra or even Johnny Bench, yet his OBP and batting average are nearly identical.
Consider some new stats like OPS. Posada ranks second behind Piazza, .992 / .856.
A catcher on any club is the backbone of his pitching staff. Look at Buster Posey, for example, a kid in his early twenties leading a staff on the grandest stage of them all.
On the flip side, look at Jason Varitek: another catcher and a rival, if you will, of Posada. He would not even be mentioned in the same breath as elite anymore.
Confidence and attitude are two traits within a ball club that cannot be taught. All athletes have confidence regardless of position. That is what makes them so good, although some are more eccentric and flaunt it more than others.
Attitude can be classified as how one carries himself, and from a viewer, that is something that has apparently left Posada and many of the Yankees. The fear that once encompassed visiting clubs is no more.
Look at the Texas Rangers in their playoff series against the Yankees.
After a colossal collapse in the late innings of Game 1, that losing team would usually fold—not this time. The Rangers stayed composed, literally taking it one game at a time, and exposed a weak Yankees bullpen to pull ahead in the late innings.
The Yankees, in general, are in desperate need of change.
Regarding the Derek Jeter situation, Jeter is in a unique position. You can still call him a publicity icon, but he is in baseball purgatory.
He is the face of the franchise, a player that transcends his generation, one that symbolizes the game and what it means to be "a Yankee." The problem that he faces, along with the organization that benefited all those years from his skills, marketability and sheer greatness, is an icon that is a lesser form of himself.
The team knows it, and the opponents know it. The glimmer is gone, and the once young, proud face of the Yankees has, in fact, turned old.
You can argue that the team could get by without Jeter and Posada at the helm, but unfortunately, another staple of the franchise is on his last legs.
Mariano Rivera—who I consider, without a doubt, the greatest closer this game has ever seen—is now a free agent. Rivera is good, but he can't do what he does forever. On the other hand, despite what everyone says, his 2010 campaign was as good as any he has ever had.
With all that said, turnover needs to happen in the clubhouse, the old regime has to step aside and let the new blood attempt to make a name for themselves.
It's time for Jesus Montero to live and learn with Posada taking a backseat.
It is time for Jeter to loosen his grip on the throne, whether it's in the field or in the batter order, and let Eduardo Nunez grow in a permanent position. Move Alex Rodriguez—do I dare say it?—back to SS and let Ramiro Pena figure it out at third (he's the best they have at the moment)!
Needless to say, it will be a rebuilding period for the Evil Empire, or should be anyway. Who knows? They might end up pulling off some magical trade and cure what ails them before spring training even starts.
Isn't that the way it should be?
This article can be found on The GM's Perspective
Read more New York Yankees news on BleacherReport.com