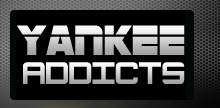 June 4, 2009 · Michael Schlossberg · Jump to comments
Article Source: Bleacher Report - New York Yankees
It's been a while since I have composed anything about the Yankees, but here is my take on the Joba Chamberlain situation.
Chamberlain's performance was excellent on Tuesday night when he went a career-high eight innings. Pitchers with the stuff like Joba aren't just laying around everywhere, but the Yankees and their fans need to let him develop into a top flight starter, which eventually most scouts think he will be.
The problem is that New York is not a very patient town and because of his prior success in the bullpen, fans want him back in the bullpen. He has not been lights out as a starter like he was out of the bullpen. It is nearly impossible to be able to develop players in the majors while also trying to compete for the World Series. The Yankees though are going to try to be able to do this with Joba Chamberlain.
Here is my big prediction.
When the Yankees make the post-season, Joba will be back in the bullpen. The rational is that with Sabathia, Burnett, Wang (provided he pitches well throughout the rest of the season) and Pettitte will be the starters in the four-man playoff rotation. This leaves Joba in the bullpen to set up Mariano Rivera in big spots during the post-season.
The reason that he will be back in the bullpen ultimately is because of the arbitrary innings limit that the Yankees have placed on Joba Chamberlain.
One way or another, even if he finishes the season as a starter, there is a good chance he'll be in the bullpen.