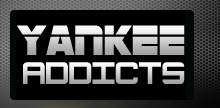 April 20, 2009 · Heartbeat Of The Bronx · Jump to comments
Article Source: Bleacher Report - New York Yankees
As the national anthem rang throughout the new Yankee Stadium during the home opener on April 16, an entire city became energized for baseball.
Little did they know that "the bombs bursting in air" would refer to an on-field power surge instead of the fight for out nation's freedom.
Fans and players alike watched as twenty home runs were launched into the stadium's newly completed seats in just four games.
In a violent mixture of horrendous pitching and a relentless jet stream toward right-center field, Yankee Stadium housed the season's first home run derby exhibition. Solo shots were as easily attainable as singles, and grand slams became a simple right of passage.
Yankees and Indians supporters were frantically scanning the ballpark for Dante Bichette, Ellis Burks, Larry Walker, Vinny Castilla, and Andres Galarraga.
They had to have been somehow transported back in time to 1997 Colorado, where the five Rockies sluggers combined to hit 188 home runs in just one season.
Yankee stadium had not been a pitcher's park since before the monuments were moved beyond the stadium's outfield wall, but it had never produced such effortless power.
The only locations for cheap round-trippers were straight down either line, including the famed "short porch" in right field. The new stadium has instead helped to carry even the most undeserved fly balls into the hands of mystified fans.
New York may require their own version of Coors Field's "humidor," an effort to prevent batted balls from entering Earth's orbit.
Whether or not the contact is made at the end of the bat, the handle, or even off of a lunge, players should prepare to practice their casual trots around the bases.
Jorge Posada's eventual game-winning home run on Sunday was struck high enough to affect airline flight patterns. Regardless of that fact, it still carried the exact distance required to save a series split with the Indians.
Perhaps the most alarming evidence of Yankee Stadium's hitter-friendly tendencies occurred in Sunday's eighth inning.
Cody Ransom stepped to the plate with the bases loaded and proceeded to shatter his bat upon contact. Completely unaware of the ball's location, he awkwardly jogged toward first base.
A few seconds later, Ransom was credited with a bases-clearing double, as his lazy fly ball landed just feet from the warning track. If a shattered bat can produce a 300 foot fly ball in mid-April, imagine where balls will land during the dog days of summer.
The original Yankee Stadium had a well-documented increase in home runs as the weather warmed, and many worry that the same phenomenon could make a mockery of the new park.
Another issue results from the altered seating arrangement at the new stadium. Seats were placed directly behind the outfield wall, which eliminates any possibility of a quick fix in terms of fencing distance.
There will be many discussions on how to best attack this unexpected dilemma, but they will not take place until after the stadium's inaugural season has been completed.
It is anyone's guess whether the surge will continue throughout the entire 81-game home schedule, but I will officially be bringing a glove to the right-center field bleacher seats in 2009.
Once merely a fantasy, it appears that virtually any seat is souvenir territory at the Bronx's new launching pad.
Chien-Ming Wang's formally dominant sinker would be very advantageous right about now. Perhaps it is time to place a call to Rick Ankiel's former therapist.
http://heartbeatofthebronx.blogspot.com/