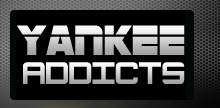 November 11, 2010 · Paul Catalano · Jump to comments
Article Source: Bleacher Report - New York Yankees
In the last year of his current contract, New York Yankees catcher Jorge Posada will be primarily a DH. He may play some catcher sporadically, but in 2011, for the first time in his career, the switch-hitter will be the everyday DH.
Frankly, it's a move long coming. Never a defensive guru or a master game-caller, Posada finally broke down this season and looked every bit of his 38 years.
Posada was fourth in the AL with 72 stolen bases, second in passed balls and third in errors. Always more of an offensive catcher, the wear and tear of catching over a decade and a half took its toll on Posada's bat, as his offensive statistics in 2010 dropped in every category.
OK, so he's the 2011 Yankee DH. But what happens in 2012 when his contract ends?
Entering the 2012 season, Posada will be 40 years old. And the talk is that the Yankees would like to move Jeter to third base (another move long overdue) to hide his range deficiencies and move Alex Rodriguez and his aching hip to the DH for the rest of his gargantuan contract to reduce wear and tear.
So where does that leave Posada? In the past, the Yankees for the most part weren't afraid to tell someone that their time was up—Bernie Williams anyone? Will the Yankees tell one of their Core Four to go home and sit on the couch?
Most likely, they will have to.
Assuming Posada doesn't have a career year in 2011, at the age of 40, the Yankees won't have a place for him the following year. With Jesus Montero and Austin Romine close to being ready to take over—if not in fact ready, in Montero's case—the Yankees would most likely go with the younger and cheaper prospects than a fading, aging Posada.
Also, they may not have the money.
So far in 2012, the Yankees have to pay large money to Jeter, A-Rod, Sabathia, Burnett, Teixeira, Granderson, as well as pay Cano his substantial option. Just those guys alone add up to about $125 million. And that doesn't include Swisher, Rivera or Pettitte. Or Cliff Lee. Considering all that, signing a deep, in-decline Jorge Posada would be a luxury. And contrary to popular belief, the Yankees resources are not, in fact, limitless.
Does Posada want to retire? Again, he would be 40 years old in 2012. At that age, Bill Dickey had retired. Yogi Berra's last year with the Yankees was when he was 38—and he was an outfielder at the time. Ernie Lombardi was done by 39. Michey Cochrane was done by 34. Gary Carter, 38. Johnny Bench, 35. Point being, Posada's body, regardless of what his gut tells him, might be due to step down after 2011.
The only problem with that might be if Posada thinks he has more in him. A proud guy, Posada might balk at any suggestions of retiring. Again, this all depends on the projection that Posada doesn't rebound with a career year at the age of 40, which is extremely unlikely.
On the topic of retirement, Posada said back in February 2010, "I am going to make it tough…I don't want to go away. I am having fun and enjoy playing. To tell you the truth, they are going to really have to rip [the uniform] off me."
Not the words of a guy who will go gracefully. So considering the Yankees plans for the future and Posada's intransigence, something will have to give.
Point being. 2011 might—and most likely will be—the last year we see Jorge Posada in pinstripes for a meaningful game. If you are a Yankee fan, you might want to enjoy what time you have left to watch him.
Read more New York Yankees news on BleacherReport.com