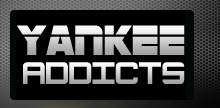 May 19, 2009 · Heartbeat Of The Bronx · Jump to comments
Article Source: Bleacher Report - New York Yankees
It all started with events that could be described as nothing less dramatic than New York's worst nightmare.
Not only had the Yankees lost starting catcher and offensive juggernaut Jorge Posada to a leg injury, but they had also been forced to add his underappreciated backup to a long list of wounded teammates.
Jose Molina has been the unsung hero of New York's star-studded roster for quite some time now.
A 2008 shoulder injury to Jorge Posada should have created an inescapable disaster, but Molina quickly proved himself to be the best backup catcher in all of baseball.
The consistency continued into the early part of 2009, as Molina was sporting a 3.59 catcher's ERA. He had also developed a strong working relationship with the new starters on the staff.
Furthermore, Molina's offense was far exceeding expectations. A career .238 hitter with a .278 OBP, he was now producing a .273 AVG while getting on base at a .333 clip.
A stubborn quad muscle yanked the team's underrated backstop from the lineup, inserting a 23-year-old rookie into the center of an increasingly scorching pressure-cooker.
Little did we know, an unsung hero was about to be replaced by an even more unexpected unsung hero.
Francisco Cervelli was not your everyday rookie. In fact, he was hitting just .190 in 58 at-bats in Double-A Trenton.
That's right; Cervelli had never even laced up his cleats at the Triple-A level, and appeared overmatched thus far in 2009. His 13 strikeouts in 16 games helped to emphasize his troubles.
However, Yankees bench coach and "catcher extraordinaire" Tony Pena had become enamored with the way Cervelli carried himself over the last two spring camps.
His quiet confidence and relentless work ethic earned him an opportunity. Ultimately, it was an open door that Cervelli never again wanted to watch close in front of him.
A broken wrist suffered during a 2008 spring-training game against Tampa Bay caused him to lose a chance at the Major League roster, and he would not let it happen again.
Cervelli was not supposed to be in this situation. Actually, he appeared to be the fourth option at catcher following the signing of veteran backstop Kevin Cash.
In an attempt to prove he could compete with the best talent baseball had to offer, Cervelli joined the Italian roster of the World Baseball Classic.
Mentored by former superstar Mike Piazza, Cervelli was able to mature at a pace that spring training would not have made available to him.
He was now the leader of a country's "National Team" of sorts, and was calling games against some of the world's superior sluggers.
Though Piazza was never exactly a defensive whiz, his ability to teach Cervelli the nuances of the game greatly impacted his development.
Cervelli returned to Tampa with a newfound swagger, finally feeling as though he belonged on a Major League roster.
He has done more than simply "impress", and to say that he has "held down the fort" would be an insult—considering his performance.
Defensively, Cervelli has been every bit as dependable as Molina. He has thrown out 50 percent of attempted thieves, and currently holds a 4.03 catcher's ERA.
More importantly, he has not been submissive or timid with veteran pitchers, as he has worked very well with C.C. Sabathia and Mariano Rivera in recent weeks.
In addition, Cervelli has also become a genuine threat in the batter's box. His .375 AVG and .400 OBP have helped to redefine how teams approach the bottom of the order.
During last night's game against Minnesota, Cervelli went out to calm down a struggling Phil Coke.
Coke, who was in search of his first ML save, was noticeably nervous and unable to find the strike zone.
Cervelli told him to "just play catch" with him and to "relax," and Coke credited him with getting his mind back on track.
If you would have told me that the team's leader in batting average and on-base percentage on May 19 would be Francisco Cervelli, I would have pulled rib muscles from laughing so heartily.
Regardless of preseason expectations, Cervelli is stabilizing baseball's most important position in New York, ensuring that a current six-game winning streak could develop.
I can't help but sit back and ask myself…where would the Yankees be right now "sans Francisco?"
Also Seen At: Heartbeat of the Bronx