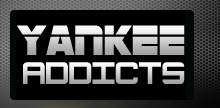 May 12, 2009 · Isaac Elyacharshuster · Jump to comments
Article Source: Bleacher Report - New York Yankees
This article is a game recap based solely on what the author has read in the game's box score. If you want to know what really happened, you can go watch SportsCenter and pray that you don't change the channel before they put on the 30 second segment of the game.
Toronto Blue jays 5, New York Yankees 1
In what was claimed to be a regular off day for New York Yankee captain, Derek Jeter, 43,000-plus Canadian conspiracy theorists at the Roger's Center weren't having any of it.
"That Jeter thinks he is sooo great, eh? Well, I suppose that he took a day off so he wouldn't embarrass himself against the best thing that has happened to Toronto since Mitch Williams, our national hero, Roy Halladay. That's what I think about that, eh," said a truly drunk Blue Jays fan being escorted out of the ballpark for peeing in his ball cap so he wouldn't miss a play.
Though this man may have been highly intoxicated, his theory has some backing to it.
Jeter has not had a great history against the Cy Young winning Halladay. It has even leaked that he has nightmares about Halladays ability to command the strike zone.
"People don't usually remember dreams, but sometimes when they turn into nightmares they are more likely to remember details. Well, let me tell you Jeter's nightmares about Halladay," said the Yankees team psychiatrist who got fired after completing that sentence. "Well, I guess I should try to get my job back, but let's just say that it something that gave me the shivers just listening to."
And Halladay lived up to all the hype tossing a complete game giving up five hits and only one earned run to Alex Rodriguez in the top of the seventh.
"Eh-Rod" as Rodriguez is called in Canada is much more popular north of the border than he is in the states.
"We don't really care about Alex Rodriguez per say, but Eh-Rod has shown that it is not embarrassing to say eh after every sentence. The kids have really taken to him and are using 'eh' more than ever," said the Mayor of Toronto, who personally talked with Rodriguez before the game, discussing a possible public service announcement commercial for the greater Toronto area.
"I don't really get it, but any publicity is good publicity, right, eh?" said a somewhat confused Eh-Rod.
This goodwill did not last long as is such with Rodriguez as of late. He was seen on the jumbotron laughing his ass off during the Blue Jays, "Let's go, EH!" during the fourth inning.
The Mayor's only words that reporter's could get out of him were, "I will show him, eh! No one will call him Eh-Rod ever again!"
Game Notes: The zero MPH wind proved to have no affect on the game, as it always does…Hideki Matsui left the game in the fifth with a sore hamstring, and Yankees staff were happy to send him to the free health clinics instead of working on him themselves…Aaron Hill hit his ninth home run of the season, surely surpassing any expectation that even he had for this season…Mark Teixeira went 0-4, keeping his average below the Mendoza line, and assuring that he will be on the cover of all sports sections in the morning with articles about how much of a bust he is.