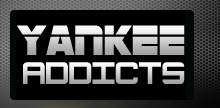 June 12, 2009 · Heartbeat Of The Bronx · Jump to comments
Article Source: Bleacher Report - New York Yankees
It was Oct. 16, 2004, and a young college freshman watched yet another Yankees-Red Sox matchup in the American League Championship Series (ALCS).
Just a year earlier, the boy had witnessed a moment and a swing that would be remembered forever in Yankees lore—Aaron Boone sending Boston home with one heroic cut at a Tim Wakefield knuckleball.
Shortly thereafter, the high school senior sent out numerous college applications to schools stretched across the Eastern Seaboard.
Ironically, as the 2004 MLB season was set to begin, he received an acceptance letter from a school in New England that would eventually provide his shelter for four years.
The excited high school graduate had little idea that baseball loyalty and his college landscape would be intertwined so tightly—or conflict so powerfully.
After all, he was going to reside in a quiet, historic Rhode Island town named Bristol—known more for its Fourth of July parade and Social Security-driven economy than cutthroat professional sport obsessions.
The dorms of Roger Williams University were as quiet and somber as any Saturday night in recorded history, as masses of Red Sox fans appeared more like funeral attendees than baseball enthusiasts.
The New York Yankees had triumphantly cast aside their rival for the third straight October night—making a trip to the World Series as set in stone as the sun rising in the east the next morning.
The proceeding games would merely be a formality, only played because no team had yet forfeited a series in order to more easily plan its final fall tee times.
Quiet confidence had suddenly transformed into unbridled enthusiasm and arrogance, as there was now nothing preventing his dreams from coming true. He had never been surrounded by so many defeated Red Sox supporters before. "I could get used to this," he thought to himself.
The "Curse of a Cocky Undergrad" was born soon after, like another of Dr. Frankenstein's horrific experiments. The Yankees had created a monster inside of him that could no longer be controlled.
Frantically searching the Internet for the best way to rub it in to his newly established friendships within Red Sox Nation, he came across the perfect "medium of mockery."
The cocky undergrad's eyes lit up at the sight of a "fan conversion contract"—a document dedicated to providing a legal switch of allegiance from Red Sox Nation to Yankees Universe.
After printing out a horde of copies, he floated on air down the hallway—passing out a contract to each and every Red Sox diehard present on his dorm's first floor. Some greeted him with true disdain, some with a more sarcastic roll of the eyes, and others with a few laughs and good-hearted banter.
Seemingly before the ink had time to dry on the boy's outward display of arrogance, Boston began nudging Mariano Rivera off of his postseason pedestal.
The blown save on October 17 began to rejuvenate the dormitory, as well as send the first of many shivers down the boy's once straight and proud spine.
October 18, 19, and 20 snowballed into a relentless nightmare, as if the boy was trapped inside of a Quentin Tarantino movie.
Boston had done the impossible—win four straight games following a 0-3 deficit.
They, of course, went on to officially shatter the Bambino's curse and win their first World Series title in 86 long and demoralizing years.
In its wake lay a boy forced to face the harsh realities of the world of athletics—something he hadn't witnessed since the last half of Don Mattingly's beloved career.
A powerful lesson was learned over the course of that fateful week, and the boy vowed to never undermine or scoff at an opponent again. The series taught him that confidence and swagger could never again be replaced with arrogance and conceit.
Some may call it pessimism, while others may refer to it as realism, but as the boy has turned into a man, he still remembers never to anticipate a victory that has yet to come to fruition.
Also seen at: Heartbeat of the Bronx