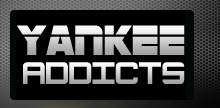 May 6, 2009 · MoneyMaker · Jump to comments
Article Source: Bleacher Report - New York Yankees
Every baseball fan and sports betting fanatic has a conspiracy theory about why the New York Yankees are so good. It's unlikely that you can remember the last time the boys in pinstripes weren't, at the very least, contending for a playoff spot in September. Even when they're not contending, it's like Tiger Woods on Sunday—you always assume they have a way back into it.
One way or another, the Yankees have managed to get the best players in the league, always. Arguably, a top 20 list of the greatest baseball players in history could feature upwards of a dozen former Bronx Bombers by the time this decade closes out.
But never before have the Yankees struck gold in the way they have with Pat Venditte. Sure, people may consider Babe Ruth to have been superhuman, but even he was not a freak of nature.
Venditte, a Single-A pitcher for the Charleston RiverDogs, can throw with both arms. Imagine live in-game betting on the BetUS Sportsbook, thinking you have the advantage because a righty is warming up in the bullpen, and a big-bopping lefty on your team is coming up to the plate. Suddenly, that pitcher takes to the mound and starts throwing 90 miles per hour left handed.
Or even worse, imagine being the batter in that situation.
Venditte was a standout at Creighton University; however his unusual nature caused many teams to balk (no pun intended) at the chance to select him. But fittingly, Venditte's signing with the Yankees couldn't happen the usual way.
In 2007, against MLB odds, New York chose him in the 45th round, after he had already declared that he would return to Creighton to fine-tune his skills. The two sides couldn't come to an agreement, but the Bronx Bombers were persistent and selected him again in 2008, and the two finally reached a deal.
In his first professional season, the switch-pitcher rattled off 23 saves in 30 appearances and a sparkling 0.83 ERA in the New York Penn League. Venditte was equally as effective with his overhand right-handed pitching style as he was throwing sidearm with his left.
MLB betting sharps are aware of the rule that is now put in place because of Venditte—who engaged in a nearly 10-minute at bat with Ralph Herniquez, a switch hitter who continuously switched sides to gain the matchup advantage. Now, a pitcher must declare which hand he will throw with prior to the at bat, and can only switch once per at bat.