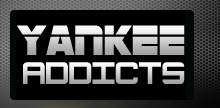 February 11, 2010 · Lewie Pollis · Jump to comments
Article Source: Bleacher Report - New York Yankees
Over the last couple weeks, I've had trouble expressing myself.
While most fans outside New York consider the Yankees' 2009 World Series win the purely the result of a predatory payroll, it turns out that the sentiment is unpopular among those on the Bombers' bandwagon.
It's a lesson I've learned the hard way; my attempts to come to an understanding with my brethren in the Big Apple—even the diplomatic ones—have failed spectacularly. Generally, my critics come to the conclusion that I'm a hypocrite for being a Red Sox fan criticizing extravagant spending.
I've spent a significant amount of time trying to get these people to see that Boston have a much better farm system than New York, that Theo Epstein relies on shrewd trading while Brian Cashman primarily improves his team via fere agency, and that the Yankees simply spend more money than the Red Sox. But apparently the arguments that make complete, objective sense inside my head make me look like a biased hack to anyone wearing a Derek Jeter jersey tee.
I knew in my heart that the Yankees' successes owed much more to pure payroll than Boston's. I wished there was a way to prove my point using numbers that no one could accuse of being biased or subjective or hypocritical. But there wasn't.
Until now.
I began by dividing everyone who made a contribution to the 2009 Red Sox and Yankees into three categories: homegrown players who made their major-league debuts with the team and have never been traded or released; trade acquisitions, including waiver claims; and free agent signings, including imports from the Japanese NPB.
I then added up each category's Wins Above Replacement—an incredibly handy little statistic that, while far from perfect, serves as the best indicator of a player's value, estimating how many games a team would have lost had it replaced the individual in question with a generic scrub.
Here are the results: (feel free to check my math, it's quite possible that I double-counted a player or miscategorized a prospect)
| | | | | | | |
| --- | --- | --- | --- | --- | --- | --- |
| YANKEES | | | | RED SOX | | |
| Category | WAR | % OF WAR | | Category | WAR | % OF WAR |
| Homegrown Players | 25.9 | 45% | | Homegrown Players | 26.1 | 51% |
| Trade Acquisitions | 8.5 | 15% | | Trade Acquisitions | 13.6 | 27% |
| Free Agent Signings | 22.8 | 40% | | Free Agent Signings | 11.2 | 22% |
The first thing that jumped out at me was that the Red Sox' homegrown players contributed more than the Yankees'. These aren't just the recent call-ups—this includes guys like Jeter, Posada, and Rivera, who came up 15 years ago. Even with the storied core of yesteryear, the New York's homegrown fruits couldn't match the likes of Dustin Pedroia and Jonathan Papelbon. What does that say about the Yankees' farm system?
The next thing you'll notice is Boston's larger contribution from trade acquisitions. Yes, swinging blockbuster deals with teams holding fire sales is a good way to piss off the rest of the league. But it takes more than money to pull it off; the Red Sox have been forced to part with a plethora of great prospects (say, Hanley Ramirez) in their efforts to improve their team.
In other words, the Red Sox have given up more homegrown talent than the Yankees, yet they've still had enough leftover to outperform the Yankees' core.
That brings us to the pièce de résistance: the free agents.
The numbers speak for themselves—the Yankees' free agents made twice the impact the Red Sox' imports did. Period.
Boston's total includes Daisuke Matsuzaka and Hideki Okajima, even though their real professional debuts were in Japan. It even includes guys like Tim Wakefield, who many people probably forgot came up with the Pirates.
And the Yankees' total is still twice as high.
Signing free agents is nothing but an act of money. You don't need a good farm system to know that CC Sabathia is has a great arm, and it doesn't take much scouting to see that Mark Teixeira is a terrific hitter. Sure, not every monkey with a dartboard could do it well (see "Pavano, Carl"), but it's not hard to play the market well if you have enough cash.
Is the difference between these teams always this cut? No, it isn't. To be fair, the Red Sox were less dependent on homegrown players when they won the World Series in 2007, though only 32% of their team WAR came from free agents. This offseason, there has been something of a role reversal between the clubs—and I'm furious about it.
But looking at last year, these numbers make it pretty clear.
I'm happy to discuss this issue with any serious naysayers, but if your argument hinges on words like "jealous" and "whiner," I'll assume you aren't looking for a genuine debate and I'm not going to waste either of our times.
But Boston fans, you can rejoice—I have discovered what WAR is good for.
Read more New York Yankees news on BleacherReport.com